Goa is the "petite state" that presents a kaleidoscopic mélange of the Portuguese and the Indian cultures. It is the smallest Indian state by area but is also one of the most famous destinations among domestic and international tourists alike. This coastal state is located within the Konkan region and is pleasingly rich in biodiversity due to its location in the Western Ghat range. It is famous for its white-sand beaches, colossal cathedrals, and forts, unending rows of coconut trees, entrancing nightlife, heritage sites, an exciting range of water activities, finger-licking seafood, and exotic cruises.
With more than 450 years of Portuguese reign, the Goan culture evidently speaks for its past. The architecture reflects strong European character with Bom Jesus Basilica and Churches and convents of Old Goa listed as World Heritage Sites. Due to the presence of the Western Ghats, a biodiversity hot-spot, Goa has no dearth of natural bounties. Majorly famous for its coastal recreations, Goa is hailed for stunning beaches like Baga Beach, Paolem Beach, and Calangute Beach. Activities around the coastal areas include scuba diving, snorkeling, jet-skiing, parasailing, banana boat riding, and surfing. The nightlife of Goa is also something that makes its way into the tourists' hearts.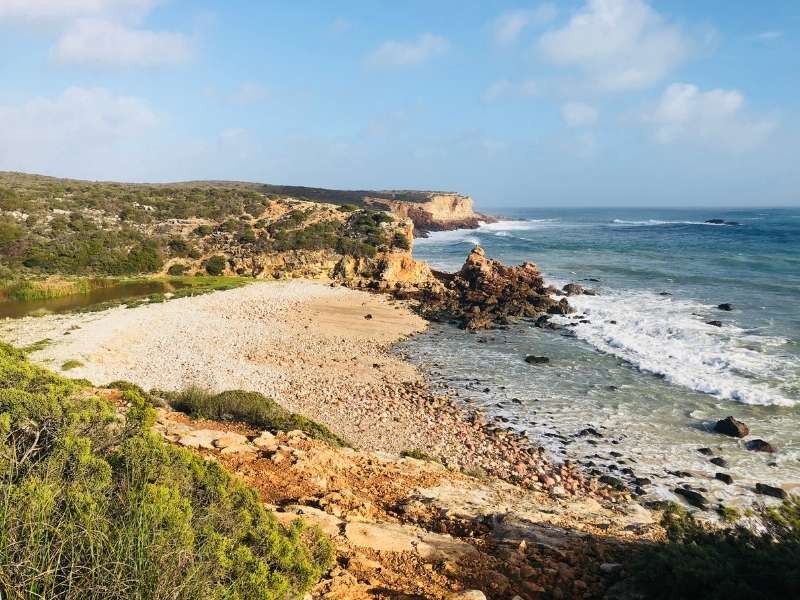 Best Places to visit in Goa:
Basilica of Bom Jesus:
It is considered one of the best examples of baroque architecture in the country and is listed as a UNESCO World Heritage Site. Also known as Borea Jezuchi Bajilika, it is one of the oldest churches in Goa and houses the mortal remains of St. Francis Xavier. The beautiful ensemble of a marble floor inlaid with precious gems, an intricately designed altar, surrealistic paintings, and a peace rendering ambiance make it a precious gem of the state.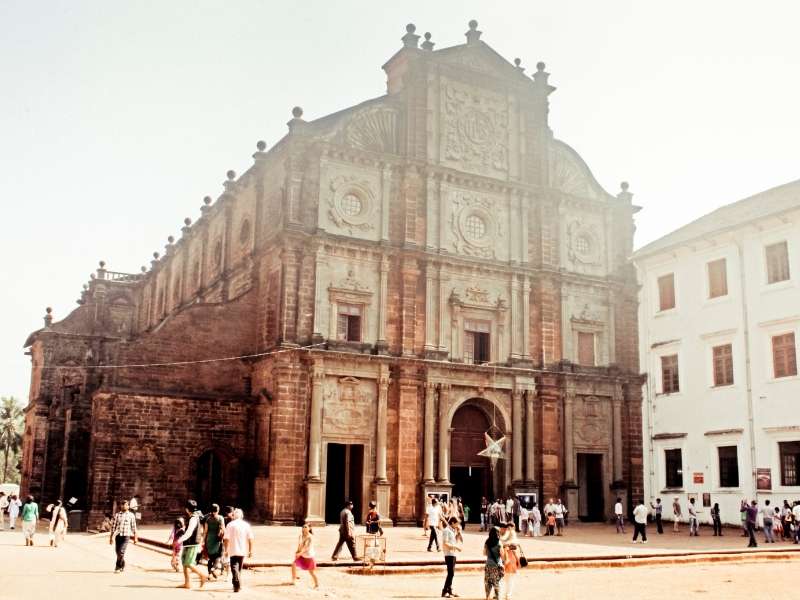 Dudhsagar Waterfalls:
Located 60 km from Panaji and at the border of Goa and Karnataka, Dudhsagar falls are located on the Mandovi river. The snow-white cascading water of the falls makes it seem like a sight of another world. Although they don't present a pretty picture during summers, it is preferred to visit them during monsoon when the rivers brims with water and hence makes the falls flaunt their full-fledged glory. They are also amongst India's tallest waterfalls at an elevation of 1017 ft.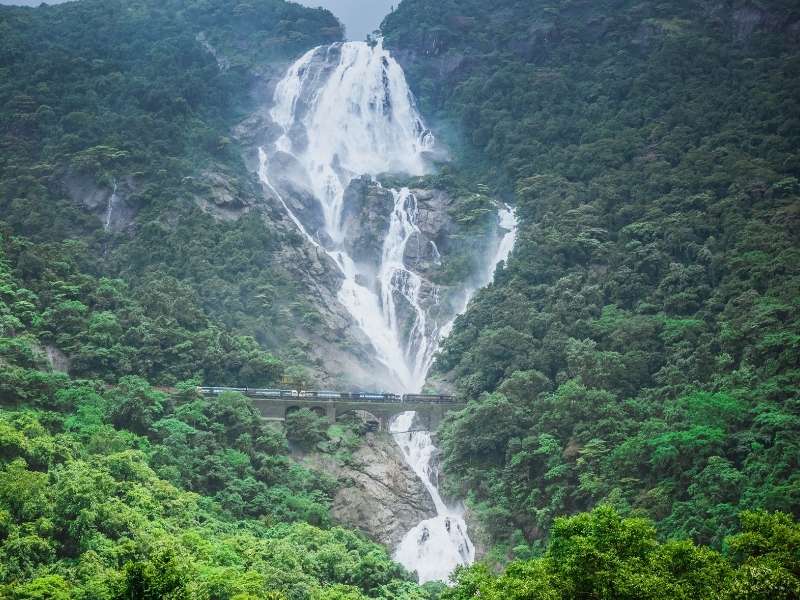 Fort Aguada:
Situated on Sinquerim Beach, this fort was built under Portuguese supervision as a defense against the Dutch and the Marathas. The fort gets its name from the freshwater spring located within the fort premise as Aguada literally translates to water. Aguada Fort and its lighthouse attract visitors to the magnificent setting with the backdrop of the Arabian Sea.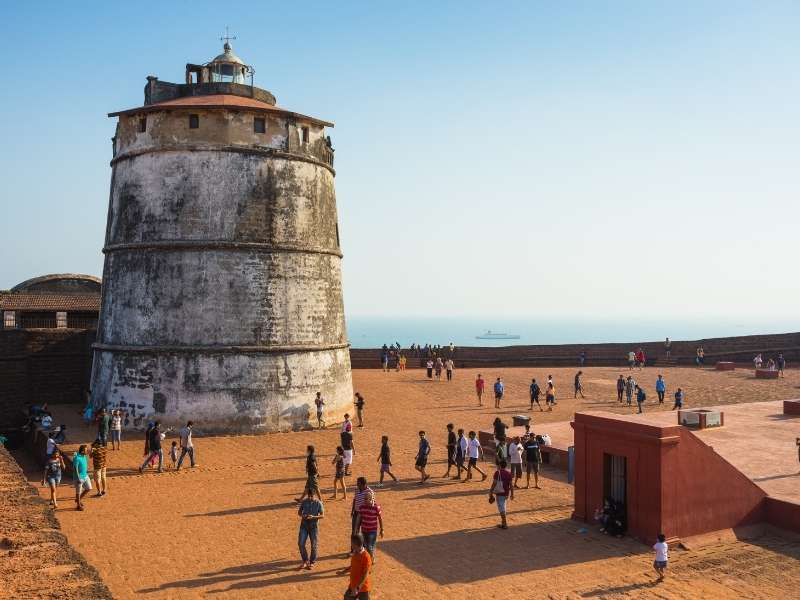 Cabo de Rama:
It is a fort located in Goa famous for its contrast of the white church building and the black fort.  This contrast provides an entirely different setting to photographers. The ruins of the fort still attract visitors for their mystic beauty and the church of Saint Antonio is well preserved and is visited by devotees.
Churches and convents of Old Goa:
Listed among the UNESCO World Heritage Sites in India, the churches and convents of Old Goa present history with utmost elegance and charm. They are the epitome of baroque and Portuguese-Manueline architecture in Asia. Some of them are Se Cathedral, Bom Jesus Basilica, and Church of St. Francis of Assisi. Their grandeur lies in their elaborately crafted interiors.
Our Lady of the Immaculate Conception Church:
This church is another example of the Portuguese Baroque style and houses the 2nd largest church-bell, the first being the golden bell which is a part of Se Cathedral. The church has a white painted façade to denote the Immaculate Virgin, Mary. Known as the "crown of Panjim", the magnificent interiors, gold plated altars, wooden structures, and beautiful paintings make it popular among art lovers.
Calangute Beach:
This beach is the largest beach in North Goa and tourists flock from all over to this spectacular beach every year. It is one of the busiest beaches in Goa and offers a wide range of recreational activities like parasailing, water skiing, windsurfing, and swimming.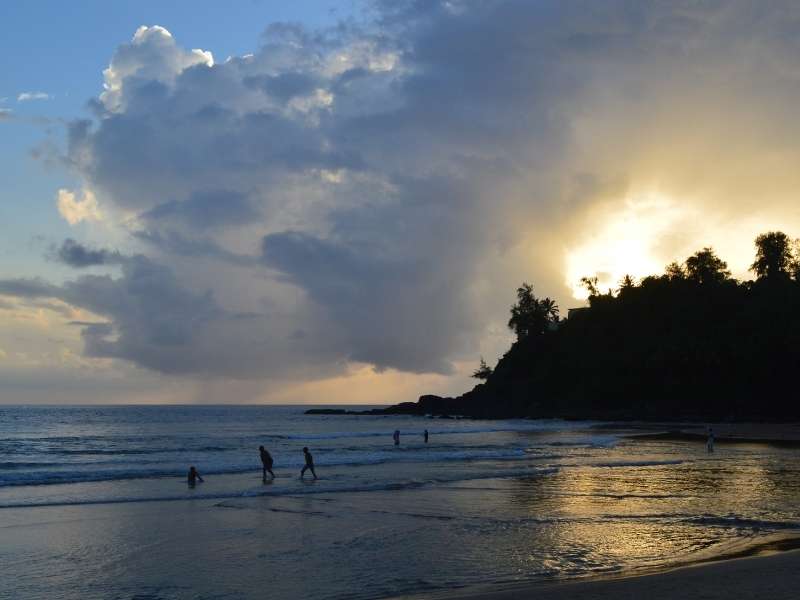 Bondla Wildlife Sanctuary:
This is a perfect destination to experience the wildlife of Goa. Housing the only zoo in the state, Bondla Wildlife Sanctuary attracts tourists of varied age groups. It is located in Ponda Taluka and is home to animals like sambar deer, Indian bison, leopards, Indian peafowl, Malabar giant squirrels, Russell's vipers, and Bengal tigers.
Some offbeat activities in Goa:
Visit the Butterfly Conservatory: This enchanting conservatory provides a treat for the eyes as it is home to a variety of multi-colored butterflies beautifying the surroundings. It aids in the breeding of various species of butterflies and houses around 130 species of butterflies.
Aravelam Caves: Cited to be constructed around the 6th century, the origins of these caves are very much uncertain. With Buddhist style of architecture and resemblance to Elephanta and Ellora Caves, some claim about their Buddhist origins but the lingas discovered their point otherwise. Some relate the caves to Pandavas. These caves are comparatively small but are an exciting find for someone with historic and archaeological inclination.
Devil's Canyon is a must-visit if spooky is what interests you: With many stories of a devil possessing power over the area and every little thing in the area in the past, this place has an eerie character and a spooky vibe. The currents in the river flowing through the area make it almost impossible to fish here.
Take a tour to a spice plantation: Goa has many spice plantations which makes it somewhat mandatory to tour one of them and learn about the various spices and how they are grown and taken care of with multiple other engagements.
Trek to Dudhsagar Waterfalls: Instead of just soaking in the majestic beauty of the falls, why not trek to them and let the experience have an adventure streak too?
Fort hopping: With various forts adorning the state, they are something that shouldn't be missed out on. So while you're in Goa, visit Fort Aguada and the famous lighthouse, Chapora Fort, Fort Tiracol, and Reis Magos Fort for their cultural legacy and scenic views.
Shop till you drop: Goa has the capacity to suffice the desires of every shopaholic!! With a number of local markets dealing in beautiful local handicrafts and jewelry, it becomes easier to buy souvenirs. Some night markets present live bands playing along with food stalls serving some relishing local food.