Himachal Pradesh is a popular destination amongst the adventure junkies as it houses some of the best treks in India. Treks for all sort of trekkers are available ranging from easy to the extremely challenging ones. As the state takes pride in its store of emerald forests and the mighty Himalayas, listed below are some of the best treks located in Himachal Pradesh.
1. Hampta Pass Trek
Maximum Altitude: 14,000 ft approx.
Duration: 5 days
Grade: Moderate
Starting Point: Jobra near Manali
Favorable Time: June to September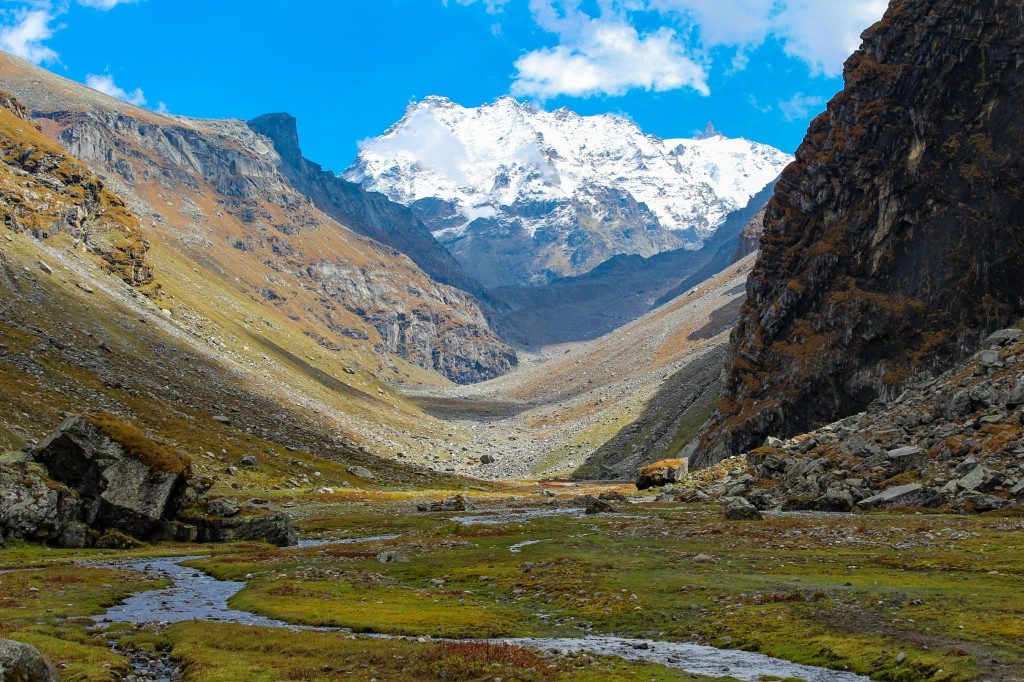 It is one of the favorite treks amongst both amateur and avid trekkers for the variety of landscapes offered during the trek. Hampta Pass connects the green mountains of the Kullu valley to the desertic slopes of Lahaul valley, both of which present a picturesque scenery. This trek is comparatively easier than other passes and hence is one of the most sought-after trekking destinations. The babbling brooks, gushing streams, music of the birds, grandeur of the mountains, pleasant tricks played by the weather, and the changing trail make this trek a must-do for all.
2. Pin Parvati Pass Trek                           
Maximum Altitude: 17,455 ft approx.
Duration: 12 days
Grade: Challenging
Starting Point: Kaza or Barshiani
Favorable Time: July to August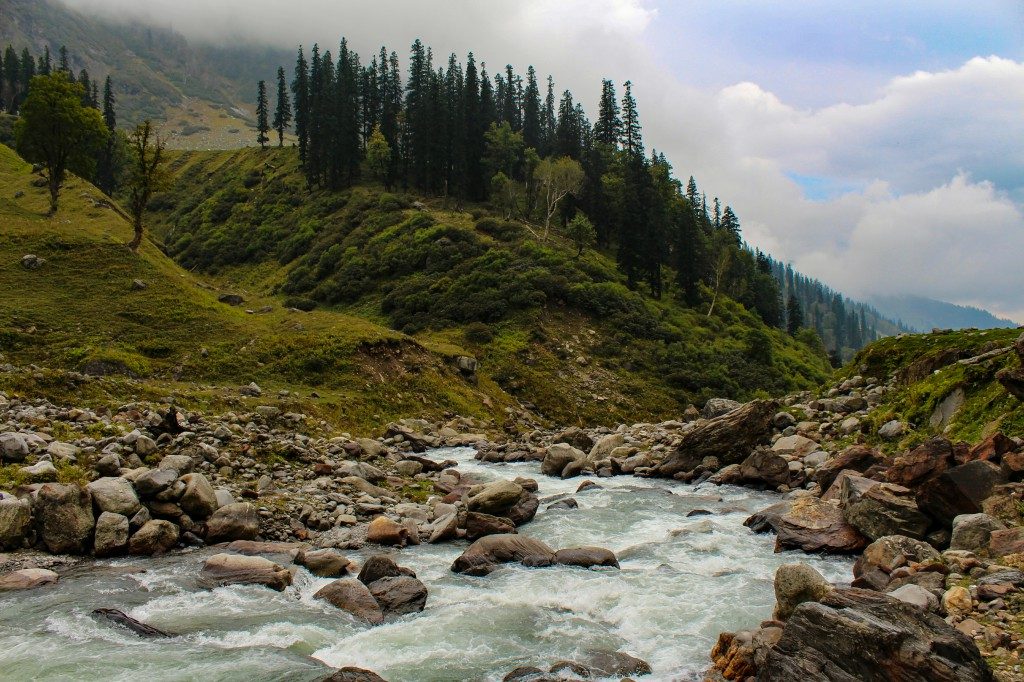 Preferred only for seasoned trekkers, the trek to Pin Parvati Pass is an exhilarating experience. It is a long expedition which takes you through a variety of landscapes. The cultural and natural contrast is also very noticeable during the trek as at one time, you are in the Parvati valley with its verdant treasures and a local, mostly Hindu, community, while soon after, you find yourself appreciating the off-beat glory of the barren mountains of Spiti valley, bustling with the Buddhist culture. Moreover, once you conquer all the hardships, which were also accompanied by the immense natural marvels, and reach Pin Parvati Pass, you'll be reassured about your decision with the breath-taking panoramic view and the sense of achievement.
Read Also: Ten Best Places to visit in India
3. Prashar Lake Trek
Maximum Altitude: 8,900 ft approx.
Duration: 2 days
Grade: Easy
Starting Point: Baggi Village near Mandi
Favorable Time: December to February and June to September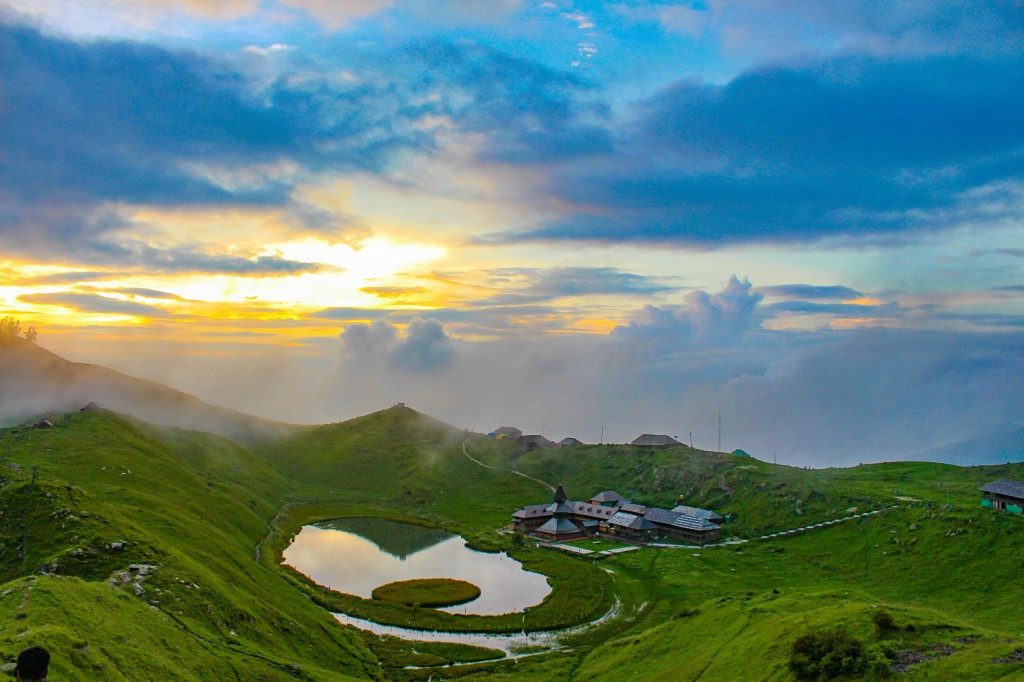 Starting from Kantlu, Prashar lake trek is a perfect weekend getaway. It begins with around 500 meters of steep ascent and trails through small hamlets, thick alpine forest, a few small meadows, apple orchards, stunning views of mountains enveloped in milky clouds, and gushing streams. Once you reach the top, what awaits you is the view of mountains like Dhauladhar Matterhorn, Triund, Friendship peak, Hanuman Tibba, Ali Ratni Tibba, and Manali peak. The temple besides the lake, which is believed to be made of a single Deodar tree, blends perfectly with the serenity of the place.
4. Bhrigu Lake Trek
Maximum Altitude: 14,000 ft approx.
Duration: 3 days
Grade: Moderate
Starting Point: Gulaba near Manali
Favorable Time: June to October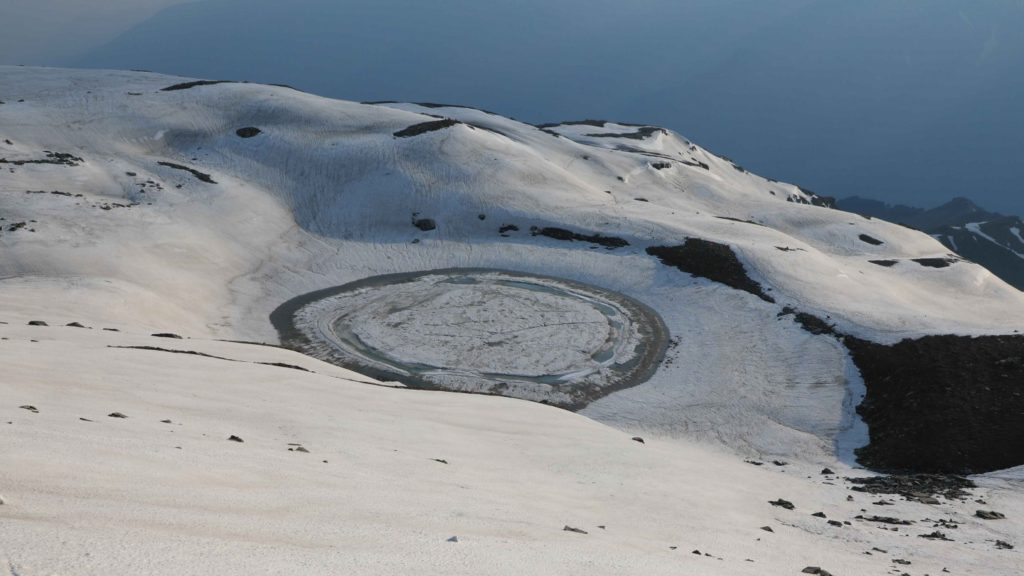 Famous for its high-altitude meadows and the vast expanse of scenic charms, this trek to the glacial Bhrigu Lake is amongst the few adventures that not only excite you but also brings calm. The trail passes through dense forests and also treats you with the views of Mt. Hanuman Tibba, Pir Pnanjal ranges, Deo Tibba, and Dhauladhar ranges. As you reach the lake, you are either mesmerized by the lush green beauty or the snow-covered brilliance of nature, depending on the season. Don't forget to lie down and appreciate the magnificent night-sky dazzling with millions of stars.
5. Kheerganga Trek
Maximum Altitude: 10,000 ft approx.
Duration: 2 days
Grade: Easy
Starting Point: Barshaini near Kasol
Favorable Time: October to June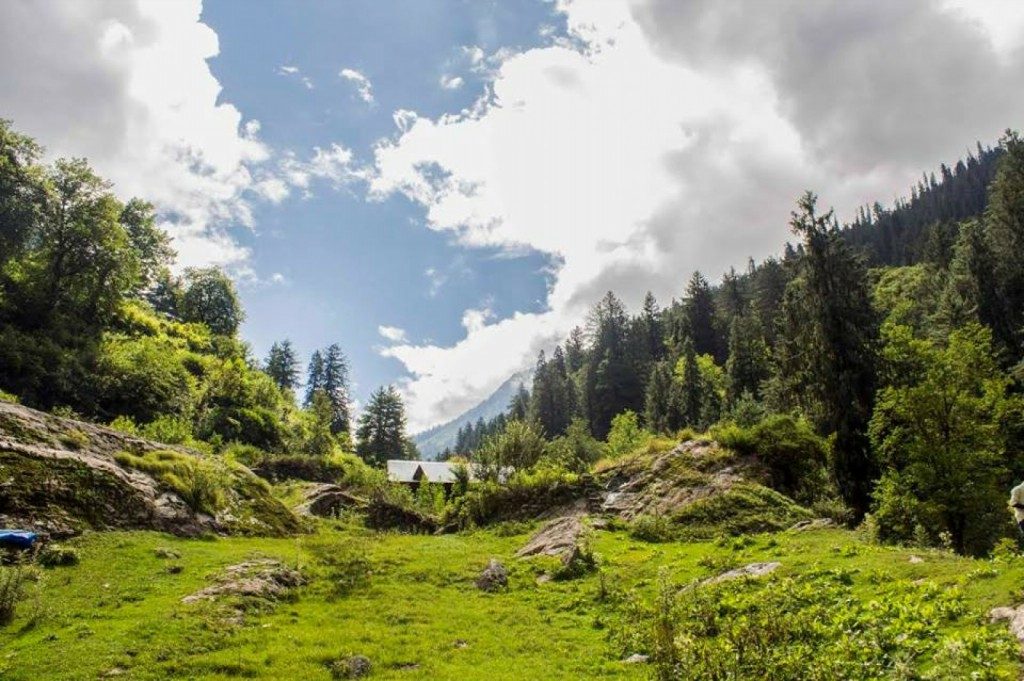 This trek comes as a savior when you are running short of days but still wants to feel the mountains and the excitement of trekking. Located in the Parvati valley, it starts from the village Barshaini and takes you through some thick forests and rustic hamlets. Food and water are available almost throughout the trek and on your way, you'll see some cascading waterfalls and streams including the Rudra Nag waterfall which presents a milky white picture. Once you reach the campsite, get relaxed by taking a bath in the natural hot water spring and also visit the temple dedicated to Lord Shiva. Stargazing at night will also add to your exciting memories of the trek.
6. Indrahar Pass Trek
Maximum Altitude: 14,240 ft approx.
Duration: 5 days
Grade: Moderate to Difficult
Starting Point: Mcleod Ganj, Dharamsala
Favorable Time: September to October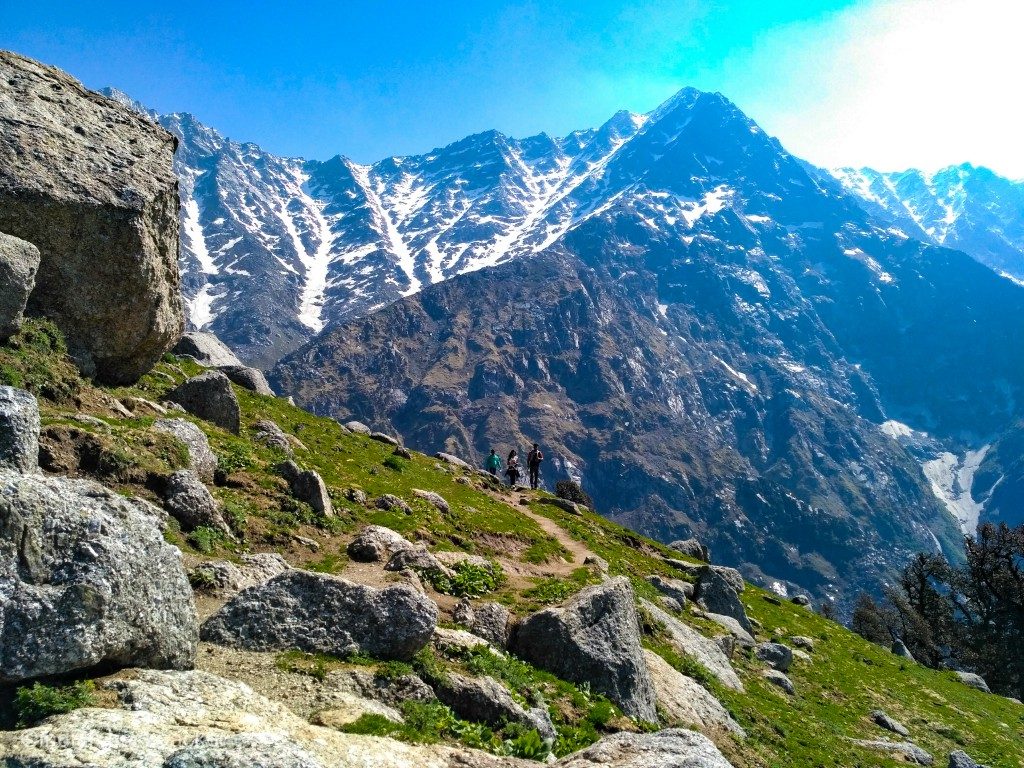 Perched up to a maximum altitude of more than 14,000 ft, Indrahar Pass trek presents an amalgamation of scenic views, majestic snow-draped mountains, gushing rivers, hamlets, and infinite thrill. It is required that the trekkers are physical fit and capable of walking through some rough patches of land during the trek. It is nestled mainly in the Dhauladhar ranges and takes you from the culturally diverse McLeod Ganj to the slopes of Triund to the amazing Lahesh Cave and finally to your coveted destination, the Indrahar Pass.
7. Kareri Lake Trek
Maximum Altitude: 9,600 ft approx.
Duration: 3 days
Grade: Moderate
Starting Point: Kareri Village near Dharamsala
Favorable Time: March to December (except monsoon)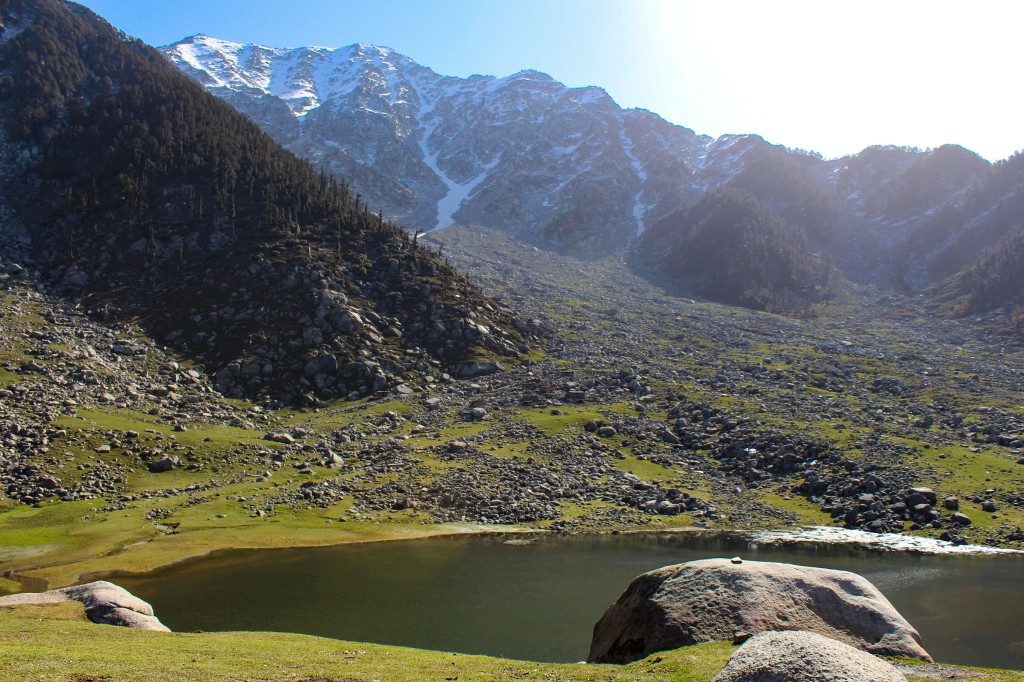 Named after the nearby Kareri village, this trek is another weekend getaway for all the adventure enthusiasts. The high-altitude fresh water Kareri lake is also accompanied by a temple dedicated to Shiva and Shakti. The water of the lake is clear, its source been the snow, and even the lake bed is visible. You will also encounter the cattle of the local gaddi community grazing around in the grasslands. Something that shouldn't be missed is watching the variety of birds that adorn this place and add their music to the tranquil atmosphere.
8. Shepherd's Trail Gaddi Trek
Maximum Altitude: 15,745 ft approx.
Duration: 18 days
Grade: Challenging
Starting Point: Lamadugh
Favorable Time: September to October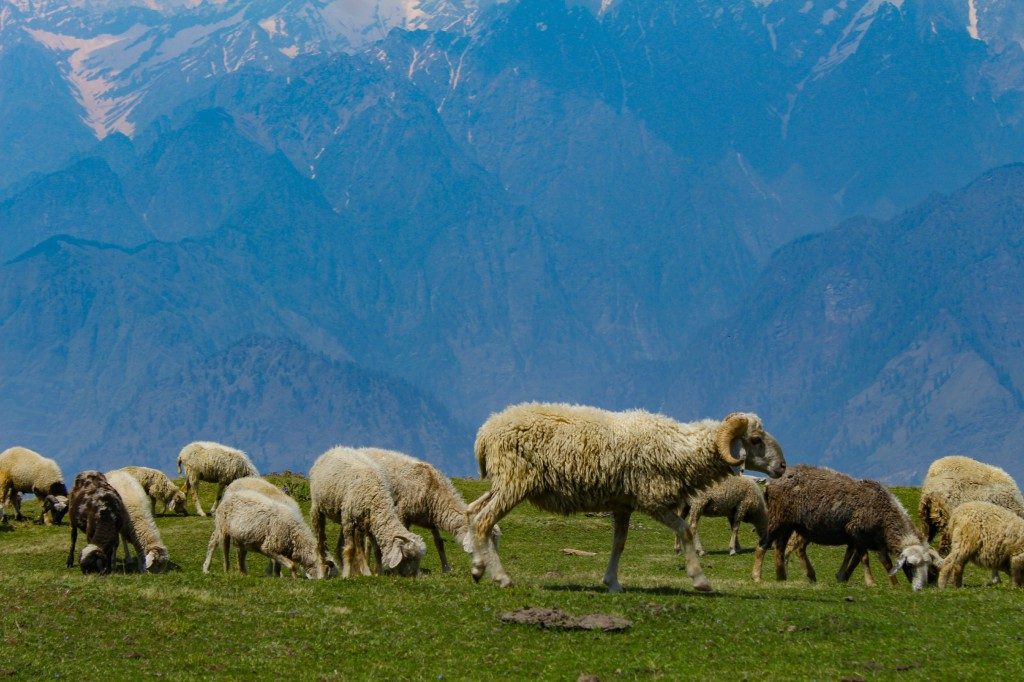 This trek connects Kangra valley to Kullu valley and is a culturally engrossing trek. Deriving its name from the local tribe of shepherds called Gaddi, it takes you through some quaint hamlets where you can easily spot the cattle grazing around. The surreal beauty offered by the environment makes even the challenges experienced during the trek worth experiencing. You'll come across orchards, meadows, forests, streams, and a variety of flora and fauna. The trek requires higher levels of physical fitness and it is advisable to not do this trek during monsoon. It is one of the longest Himachal Pradesh treks and it guarantees the experiences of a lifetime.
9. Deo Tibba Base Camp Trek
Maximum Altitude: 14,000 ft approx.
Duration: 6 days
Grade: Moderate
Starting Point: Khanol
Favorable Time: Mid-June to October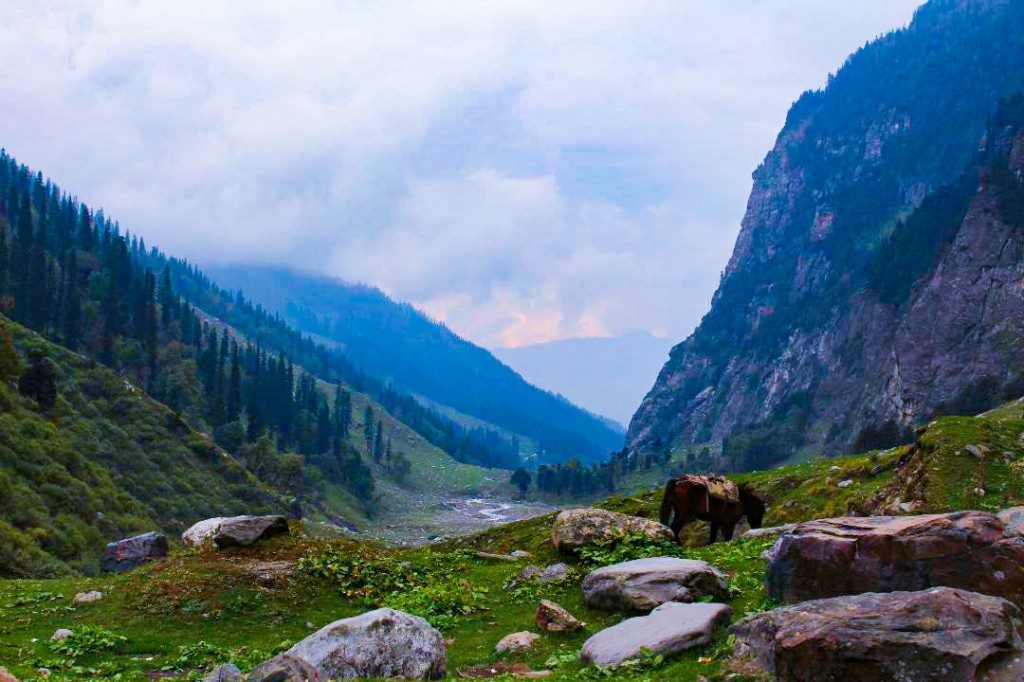 Reaching up to a maximum elevation of around 14,000 ft, Deo Tibba base camp trek is one of the best Himalayan treks located in Himachal Pradesh. The awe-inspiring views of the giant snow-covered mountains, lush green meadows, high altitude lakes, distant villages and communities, all combine to weave an unforgettable journey for the trekkers. What's worth noticing is that this trek can also be done by beginners if they are physically fit. As the journey proceeds, you will witness Deo Tibba and Indrasan peaks enveloped in snow and also the Jagatsukh and Deo Tibba glaciers.
10. Beas Kund Trek
Maximum Altitude: 12,770 ft approx.
Duration: 3 days
Grade: Easy to moderate
Starting Point: Solang Valley near Manali
Favorable Time: May to July, September to October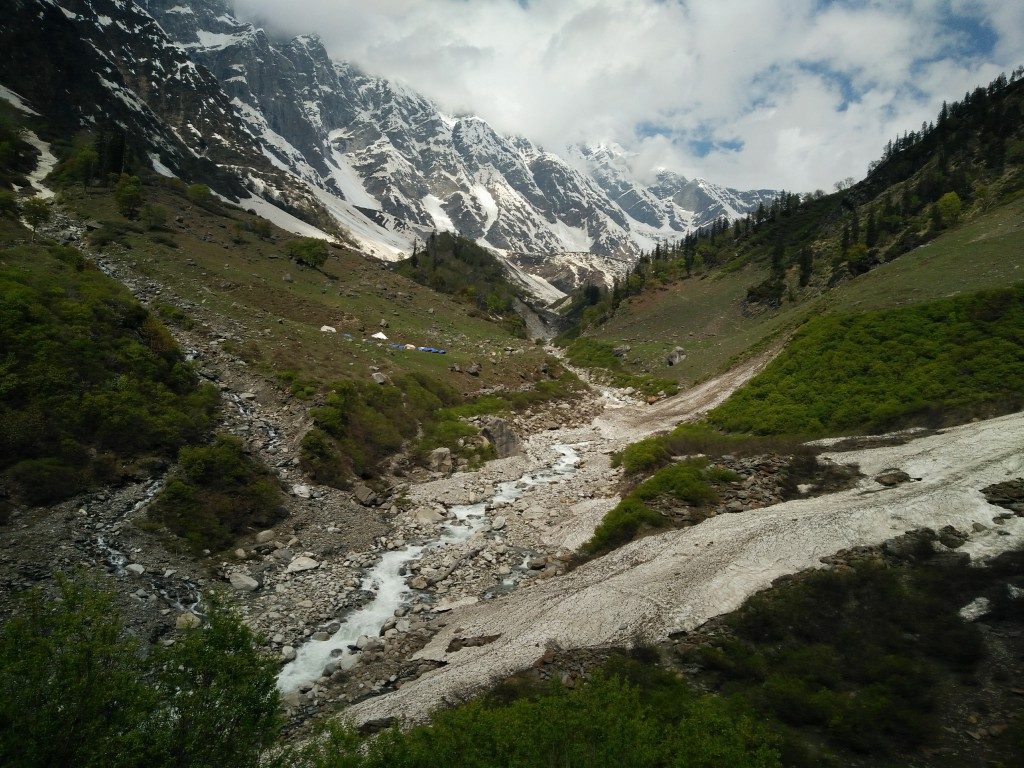 This is another short trek which can be done by both amateurs or first-time trekkers. Although trekking itself begins from the visually delighting Solang valley, as you proceed through the trail you are sure to experience the enchantments of nature. You'll be required to cross streams and rivers while trekking. The photo junkies can also treat themselves by capturing the dazzling views of the artistic landscape. The mythological connection of the lake with one of the most reputed Hindu rishis, Rishi Vyas, adds to the charms of the place as it is believed that he used to bathe in the holy lake.