Once you begin your journey as a trekker, you'll come to know about all the perks and satisfactions that come with trekking and hiking. The benefits of letting your foot loose and wandering through various places are innumerable. Trekking serves as a packaged deal which takes care of our body, mind, and soul. It provides an escape, a refreshment, an activity to cool off from our busy schedules, and something which we can cherish throughout our lives.
Here we have listed out 6 health benefits of trekking or hiking to motivate you to embark on your treks –
1. Overall fitness
Trekking ensures that you are entirely fit and sound as you are required to do a lot of physical activity during the treks. The amount of exercises performed while trekking result in improved health of the trekkers. Rock climbing, hoping, walking for miles, and ascending or descending the slopes – all are helpful to develop muscles and work on several body parts at the same time. A lot of cardio exercises become a part of trekking, making it beneficial for the overall health. It also results in weight loss and ailments like obesity and cholesterol related problems are defeated in their purpose. All the distances that you cover and all the trails that you trek ensure that you stay fit and healthy as the lesser polluted environment at the treks helps the body to take a cleanse and feel revitalized.
Read Also: Best Himalayan Treks for Winters
2. Increased cardiovascular and strength
A great deal of cardiovascular strength is achieved through trekking because it involves climbing mountains or slopes which increases our heart rate and make sure that the heart rate in increased, thus, increasing the blood flow throughout the body. It checks various heart problems which are otherwise common occurrences in our mundane lives. The increased activity of the heart maintains the blood pressure and results in an improved circulatory system. Trekkers are safeguarded up to a great extent from the problems like heart attacks and strokes.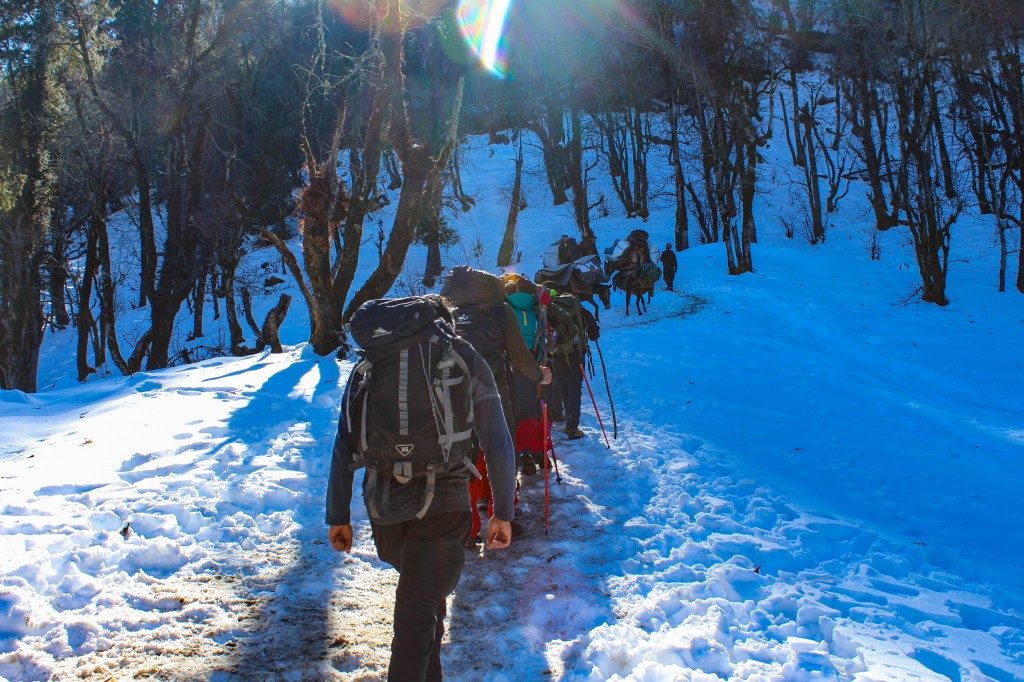 3. Improved lung capacity
Heavy breathing is a major part of trekking, especially during more strenuous treks. Inhaling the fresher and cleaner air during the treks helps clean the lungs of the toxins which it collects while in the cities. The far-flung locations of treks ensure that the trekkers are provided with more refreshing and cleaner air to breathe in which helps in improving the health of the lungs and their capacity. The metabolism of the body is also boosted while trekking or hiking as the body produces the required enzymes to increase its metabolic rate. The usually green stretches of land and thick forest covers fix the respiratory ailments up to a great extent.
4. Stronger muscles and bones
It comes as no surprise that hiking or trekking helps in achieving stronger muscles which are well-adapted even for some tiring activities. Regular hiking improves the quality and strength of our bones as well. The exercise which one performs voluntarily or involuntarily during the treks is equal to the workout sessions at the gym. It helps in losing fat and gaining muscles. The multiple physical activities which are a part of trekking are crucial to help a person attain a leaner and healthier body which is capable to take the entire route without much stress or pain. All the exercises are put to shame when one talks about the numerous ways in which trekking or hiking engage a person in extensive workouts.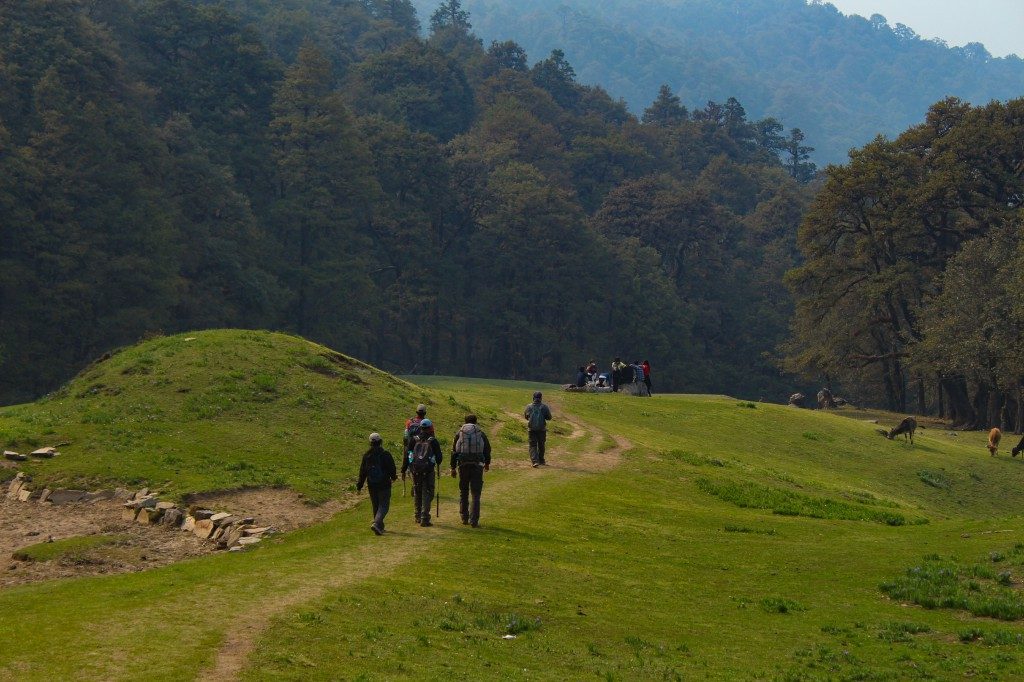 5. Increased focus
One has to stay pretty aware and focused during treks in order to climb the steep pathways. This helps in increasing the overall focus of the person as he/she becomes more aware of their surroundings and its consequences. With limited or no mobile networks, one is more aware of his surroundings and the group he's trekking with. Some minor things like looking out for each other, discovering newer species of fauna, listening for the sounds of the wild animals, and treading cautiously, all these things combine to work on our focussing skills and make our senses become more attentive hence increasing our awareness levels.
 Read Also: Tips and Tricks to Stay Healthy While Trekking
6. Mental Benefits
As trekking allows a person to be himself and forget all the woes, it surely is a cure for multiple mental ailments like depression and anxiety. It allows the person to live in the moment and forget about the things which cause them distress. Witnessing the unbound beauty of nature might also inspire a tired soul to restart the journey through life with a more positive outlook. Treks are important for healing as you meet a lot of new people while trekking, share moments with them, push yourself to climb the last mile, and make memories that will last forever. Hence, trekking or hiking is a great stress reliever which doesn't come in the form of any medication but as a blissful experience.