If you thought, you've seen everything in Himachal Pradesh and wished there were secret places in this Himalayan state to spend a vacation in peace, then we have some amazing news for you. There are offbeat places in Himachal Pradesh awaiting to welcome you with their undisturbed settings, unmatched nature's beauty, and tranquility you will not find anywhere else. Go ahead, read the blog, and thank us later!
1. Barot Valley in Mandi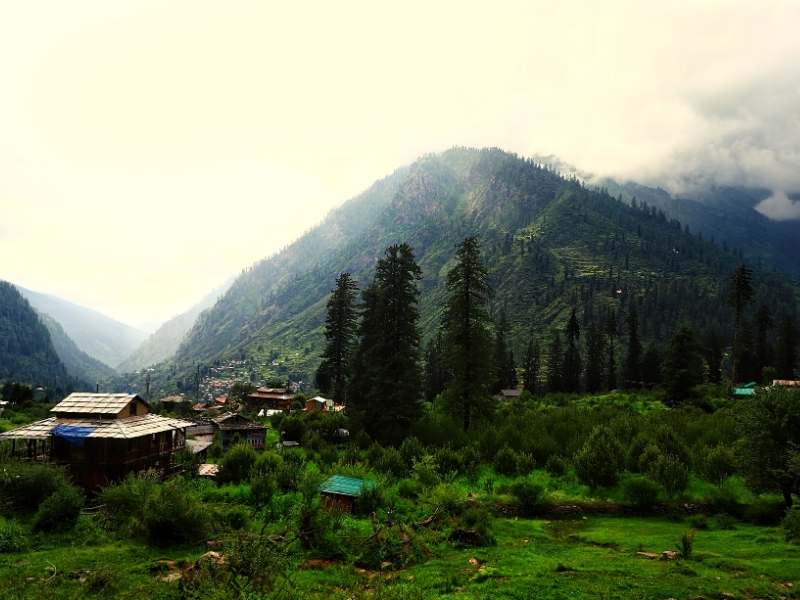 Are you dreaming of a holiday by a gurgling river in Himachal where you are the only tourist? Well then, Barot Valley in Mandi district is the place for you. The Uhl River runs through the valley and the rolling green mountains are your constant companion in Barot. This offbeat place in Himachal is where you go to attain that much-need peace of mind amidst undisturbed nature. It is an ideal place for trout fishing & angling with around 30 km stretch dedicated for this recreational activity.
Things to Do in Barot Valley:
Hiking
Trout Fishing & Angling
Nature Camping
Attractions in Barot Valley:
Uhl River
Nargu Wildlife Sanctuary
Chuhar Valley
Shanan Hydel Project
2. Shangarh in Sainj Valley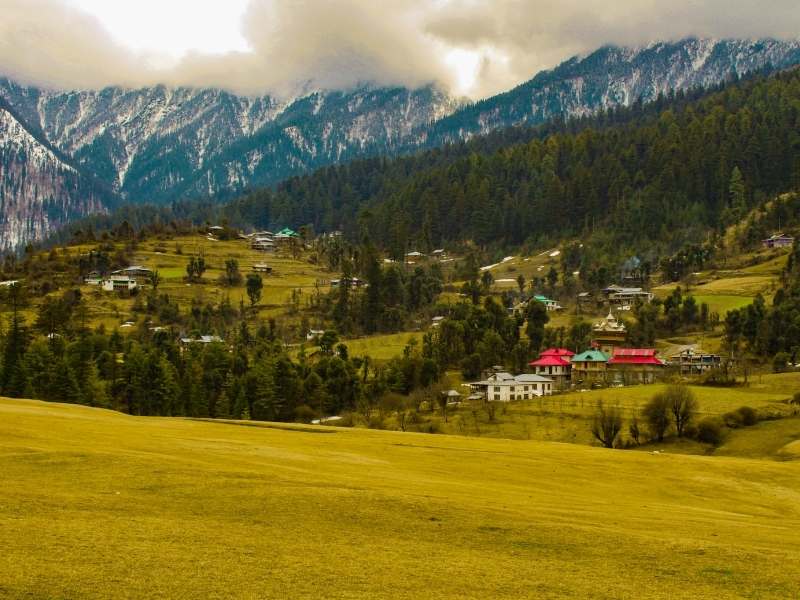 The best thing about Himachal Pradesh is that it is packed with so many surprises. Yes, Shangarh in Sainj Valley is one of them. This little known place tucked away in the lap of the Himalayas is a nature's delight. Visited by few people so far, it is the base for some amazing treks like Thachi Valley. Other than this, Shangarh is where you can spend a holiday in peace with no tourist drama whatsoever.
Things to Do in Shangarh:
Hiking & Trekking
Camping
Village Sightseeing
Attractions in Shangarh:
Shangchul Mahadev Temple
Temple Tower
Manu Rishi Temple
3. Gushaini in Tirthan Valley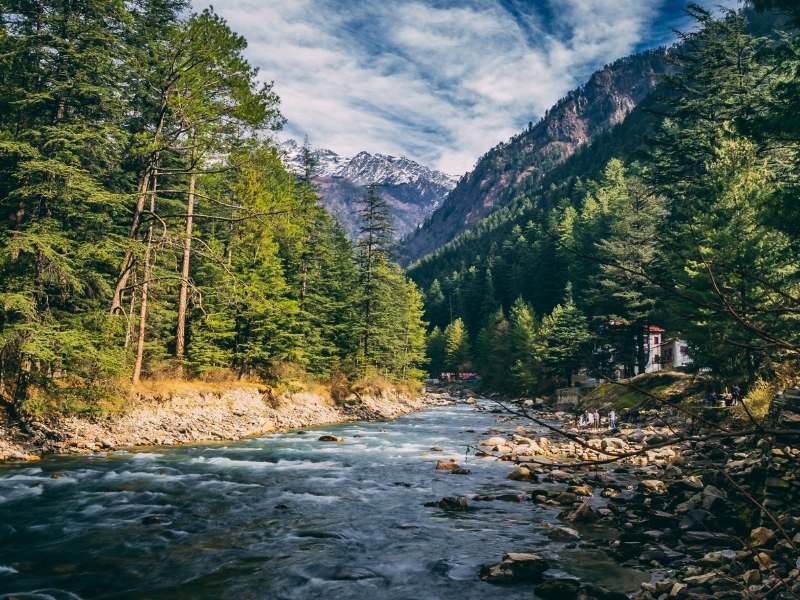 Those who know a little about Tirthan Valley are aware how magical it is. Away from the tourists' claws so far, this offbeat destination in Himachal Pradesh is everything a nature lover would want. Gushaini, which is the base for Great Himalayan National Park (GHNP) Trek is a quiet village where you can enjoy trout fishing, hiking, eating lucious apples & apricots (in the season), interacting with the locals, and even sitting by the river.
Things to Do in Gushaini:
Hiking & Trekking
Trout Fishing
Camping
Attractions in Gushaini
Great Himalayan National Park
Rangthar Top
Rolla
Lambri Top
Bashleo Pass
4. Chitkul in Kinnaur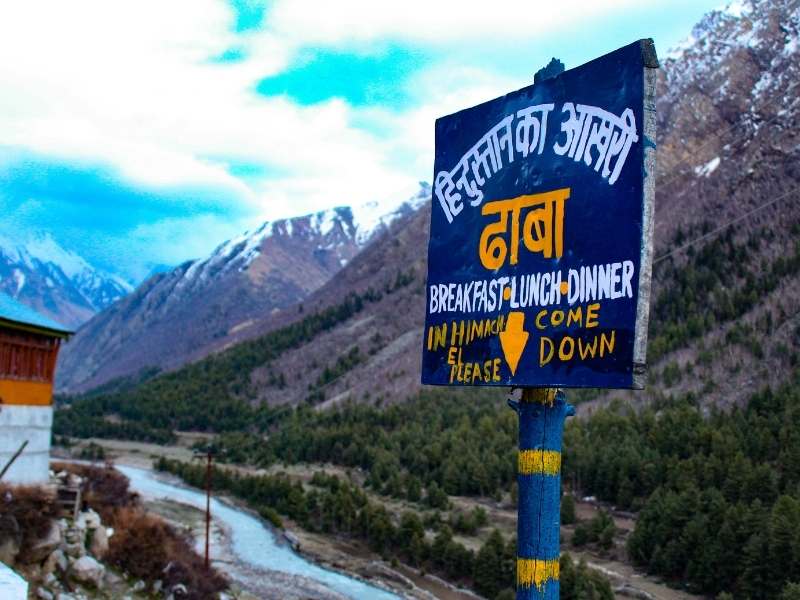 A tiny hamlet, Chitkul is often introduced as India's last inhabited village. Sitting by the Baspa River, this offbeat destination in Kinnaur district is quite a surreal one. Chitkul is inhabited by no more than 80 – 100 people and when you walk on the ITBP road here, you can actually reach the beginning of the border area between India and Tibet, though the actual border is 40 km ahead.
The place has few homestays and camping sites, a 400-year old temple, and the cleanest air in India. Our personal favorites are its nearby hiking trails and its open-air bus station near which you read the sign of Hindustan ka Aakhri Dhaba (India's last restaurant).
Top Things to Do in Chitkul:
Hiking
Camping
Stay in a homestay
Attractions in Chitkul:
Mathi Temple
Baspa River
ITBP Check Post
5. Dhankar in Spiti Valley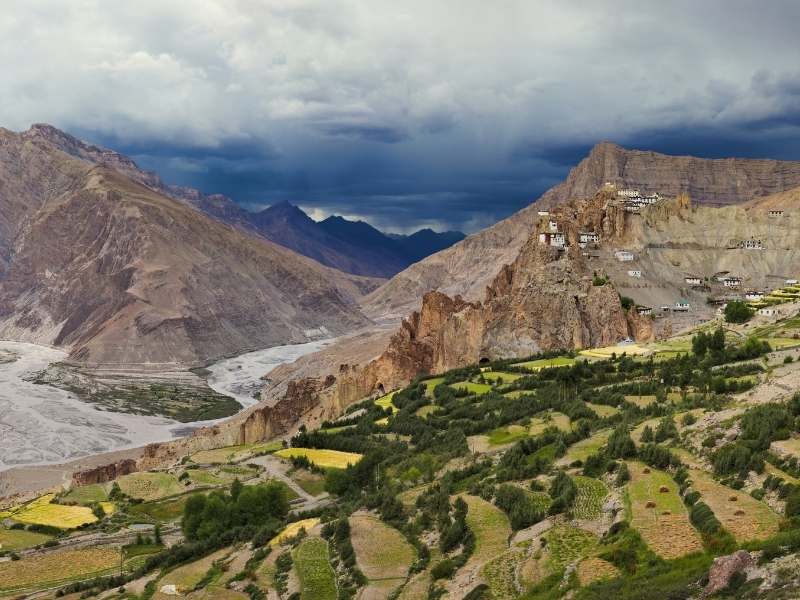 Dhankar is unarguably one of the most pretty destinations in Himachal Pradesh. Once the capital of Spiti Valley, Dhankar is situated at an altitude of about 3800 m and overlooks the confluence of Spiti and Pin rivers. This picturesque village is known for its Buddhist monastery, Dhankar Gompa which is situated at the top of the mountain and overlooks the sprawling Pin Valley. At Dhankar, nature, and spirituality are at their best. You just cannot afford to miss this offbeat place in Himachal Pradesh.
Top Things to Do in Dhankar:
Hiking
Interact with the locals
Try Yak butter tea
Visit the buckwheat farms of the locals
Try locally-made momos and food
Attractions in Dhankar:
Dhankar Gompa
Confluence of Spiti and Pin rivers
Dhankar Lake
6. Karsog Valley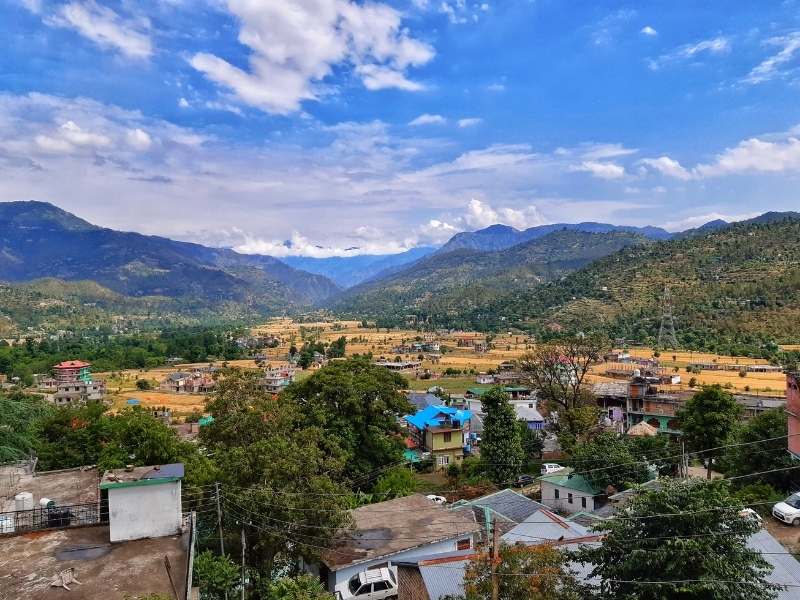 An offbeat destination near Shimla, Karsog Valley is a much-needed respite from overcrowded and mainstream tourist places in Himachal Pradesh. So what exactly are we talking about? Well, we're talking about a peaceful setting, apple orchards, wheat and corn terrace farms, and lush meadows and forests. Karsog is just the kind of getaway you were looking for that is not too far yet far away from the hullabaloo of organized tourism. You're going to love your time here.
Things to Do in Karsog Valley:
Trekking & Hiking
Temple hopping
Village walks
Apple picking
Attractions in Karsog Valley:
Mahunag Temple
Shikari Devi Temple
Mamleshwar Mahadev Temple
Kamaksha Devi Temple
7. Kalpa in Kinnaur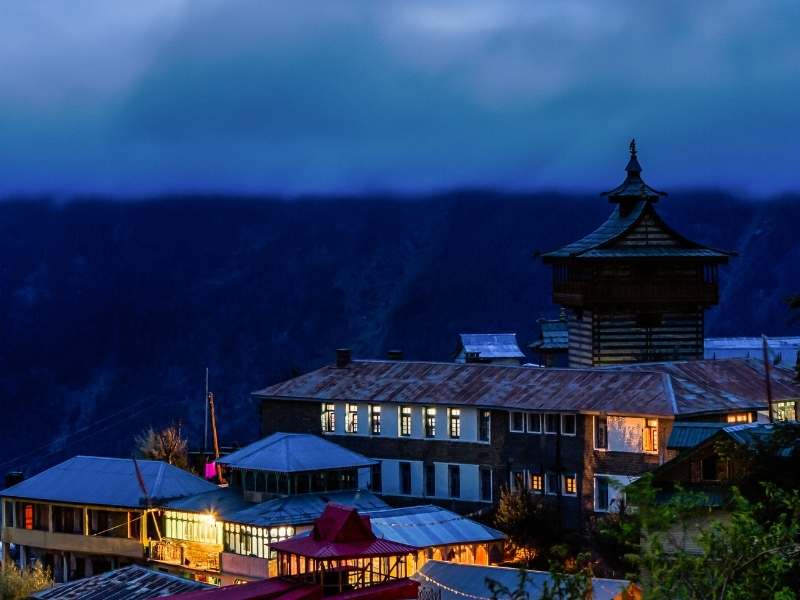 Unarguably one of the most scenic villages in Himachal Pradesh, Kalpa is where you get to fall in love with the Himalayas. It is one of those places from where you never want to return. No exaggeration, Kalpa is like a slice of a paradise fallen at the right place on earth. The village has a slow pace of life, which gives you ample time to appreciate the beauty of nature and simplicity. Kalpa is where you get the best views of Kinnaur Kailash Range and its prominent peaks like Kinnaur Kailash, Mt. Raldang, and Jorkanden.
Top Things to Do in Kalpa:
Village walks
Nature photography
Nature walks
Attractions in Kalpa:
Narayan Nagini Temple
Chini Gao Monastery
Kamru Fort
Roghi Village
Suicide Point
8. Udaipur in Lahaul Valley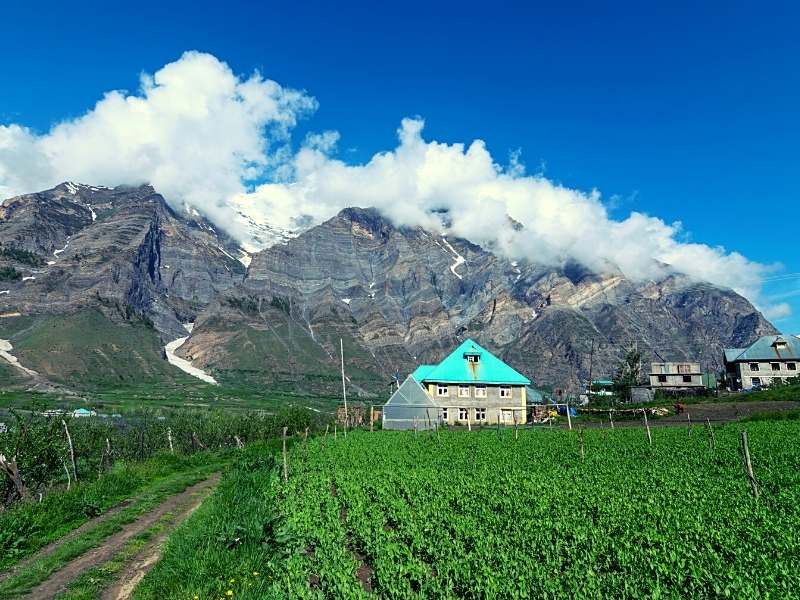 No, don't confuse it with Udaipur in Rajasthan. Himachal Pradesh has its own Udaipur Village which is quite unlike the one in Rajasthan. This quaint village tucked away in Lahaul & Spiti district in Himachal Pradesh is ideal for those who are interested in history, religion, architecture, nature, and most importantly in offbeat places. We know you are feeling how you could have not known a place like this before, well, that's the beauty of Himachal, it surprises you when you least expect it.
Things to Do in Udaipur:
Nature walks
Hiking
Temple hopping
Photography
Attractions in Udaipur:
Mrikula Temple
Trilokinath Temple
9. Bharmour in Chamba: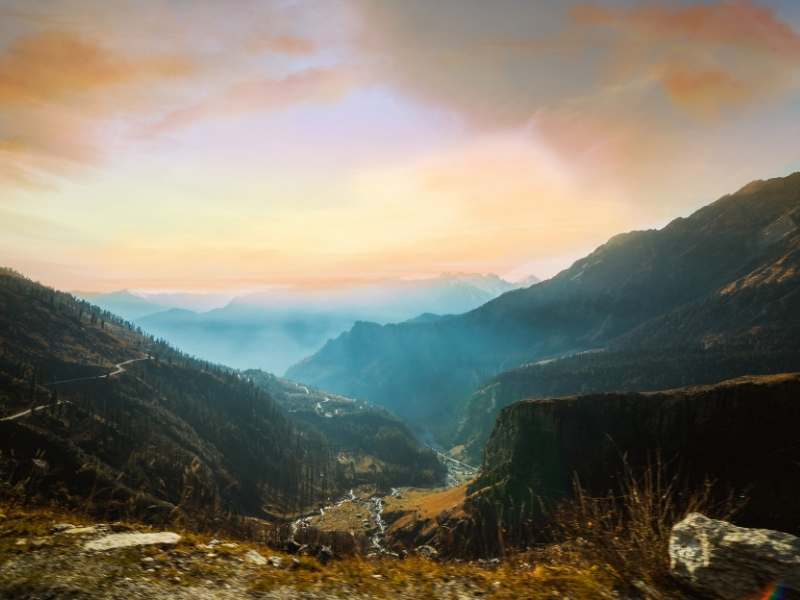 Not so far from the famous Chamba in Himachal Pradesh, sits the beautiful tiny town of Bharmour. Amidst the thick deodar forest and encircled by Pir Panjal Range, Bharmour is quite popular amongst the local Himachalis, it is just the outsiders like us who have stayed unaware of its hidden paradise. Rooted in myth and religion, Bharmour is a manifestation of a golden era of architectural and cultural glory in Himachal Pradesh.
Top Things to Do in Bharmour:
Trekking
Stay at a homestay
Interact with the locals
Photography
Attractions in Bharmour:
Bharmani Mata Temple Complex
Kaksen-Bhagsen Waterfalls
Chaurasi Temple Complex
10. Rohru in Pabbar Valley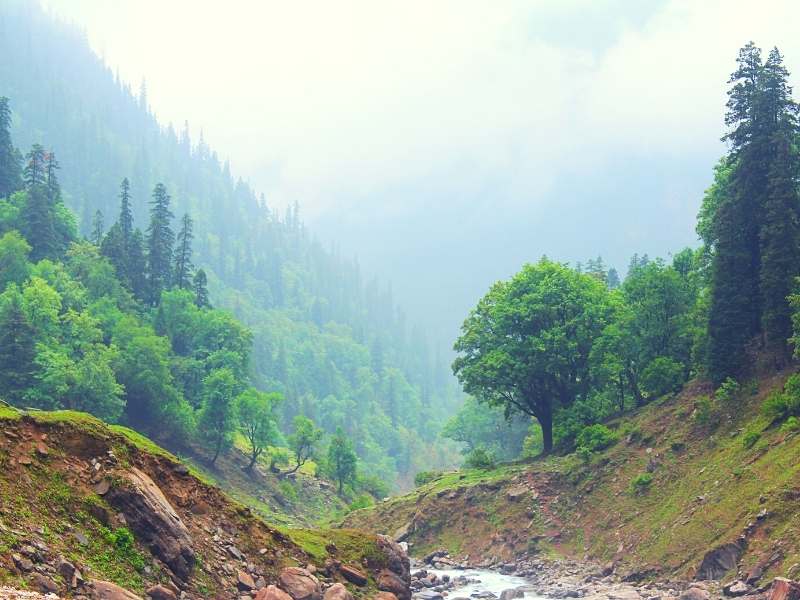 Wish to run away from the hustle and bustle of Shimla? Well, Rohru is your perfect offbeat getaway then. Some odd 100 km from Shimla, Rohru is where a paradise unlocks. Situated on the banks of Pabbar River, Rohru is home to trout fish and thus, is an ideal spot for fishing & angling enthusiasts. Another attraction that draws one to Rohru is its sprawling apple orchards. This peaceful destination boasts natural beauty ideal for anyone looking for solitude and bliss.
Things to Do in Rohru:
Trout fishing & angling
Trekking & Hiking
Nature photography
Attractions in Rohru:
Himachal is undoubtedly a place where all the magic happens. So if you are in search of some magic of your own, plan a holiday at one of these offbeat places in Himachal Pradesh and create an unforgettable experience for yourself.