Ever heard of how big surprises come in small packages? Well, you'll see that saying come to pass once your eyes meet the beauty of Bhutan. Much famed as the Land of the Thunder Dragon, and rightfully serving as the land of happiness, Bhutan is one of those offbeat destinations in the world that is yet to be explored to its fullest potential. Home to some of the breathtaking monasteries, and majestic forts, and gorgeous valleys, there are several iconic ​places to visit in Bhutan that are bound to make you fall in love at first sight. Hence, make sure you do not miss out on including these famous destinations in Bhutan when you visit.
1. Thimphu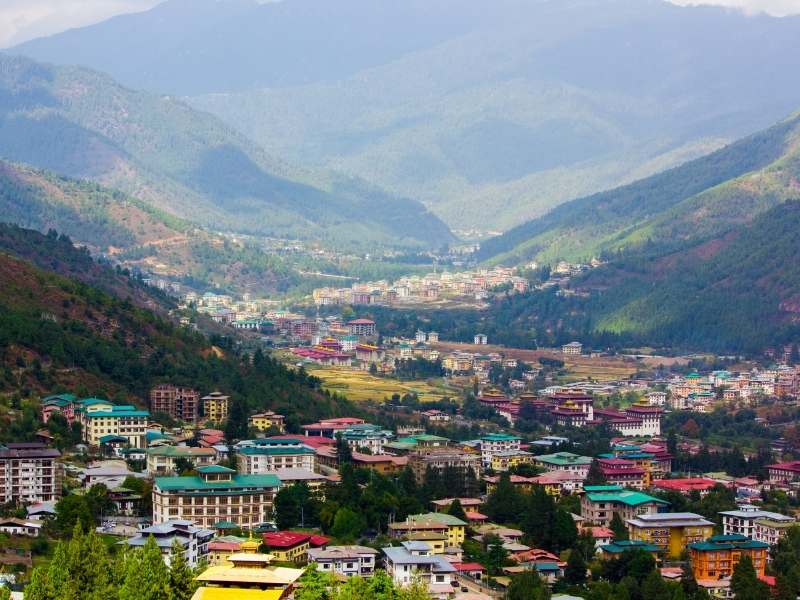 Thimphu is as vibrant, active, and charming as any capital city in the world should be. Set in the western region of the country, the city also attracts travelers for the presence of the famous Tashichho Dzong – the monastery that features a roof made of golden-leafs. Considered to be the largest city as well, Thimphu has a number of places to visit for tourists.
Attractions You Don't Want to Miss in Thimphu:
Tashichho Dzong

National Memorial Chorten

Kuensel Phodrang

Motithang Takin Preserve

Weekend Market

Centenary Farmers Market

National Library
2. Paro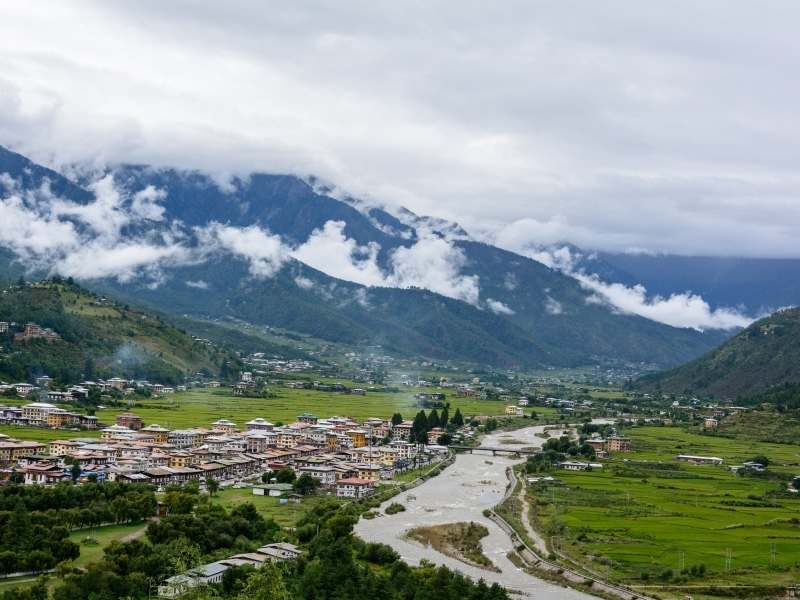 Considered to be one of the best ​places to see in Bhutan​, Paro is known for its iconic Paro Taktsang or Tiger's Nest Monastery. This beautiful town is the historic settlement in the heart of the country. Paro is home to numerous sacred sites and the country's National Museum.  It also has the country's only and first-ever international airport and one of the largest forts in Bhutan, Rinpung Dzong.
Attractions You Don't Want to Miss in Paro:
Tiger's Nest Monastery

Rinpung Dzong

Ta Dzong (National Museum)

Kyichu Lhakhang

Drukgyel Dzong

Druk Choeding

Ugyen Pelri Palace

Jangsarbu Lhakhang
3. Punakha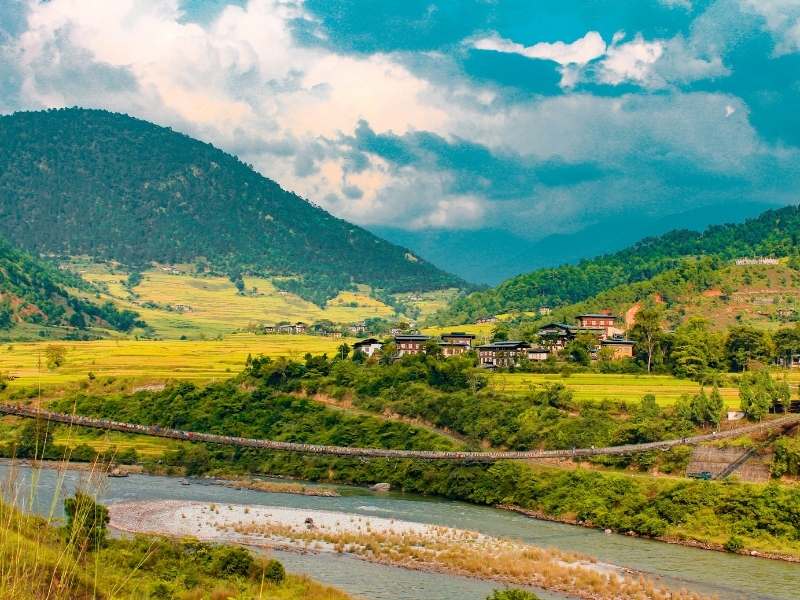 The 17th-century Punakha Dzong, the iconic Suspension Bridge, and the ecstatic hilltop location of the Khamsum Yulley Namgyal Chorten monastery are some of the incredible ​places to visit in Bhutan​ that make the city of Punakha impossible to miss when in the country. Featuring a lot of temples in the treasure chest of the Punakha Valley, you might as well get a chance to witness the magic of Punakha Tshechu festival in case you get lucky. Filled with a lot of colorful drama, music, celebrations, and the famous mask dance, it is a sight that would definitely elevate the quality of your experience in Bhutan.
Attractions You Don't Want to Miss in Punakha:
Punakha Dzong

Punakha Suspension Bridge

Chimi Lhakhang

Sangchhen Dorji Lhuendrup Lhakhang Nunnery
4. Trongsa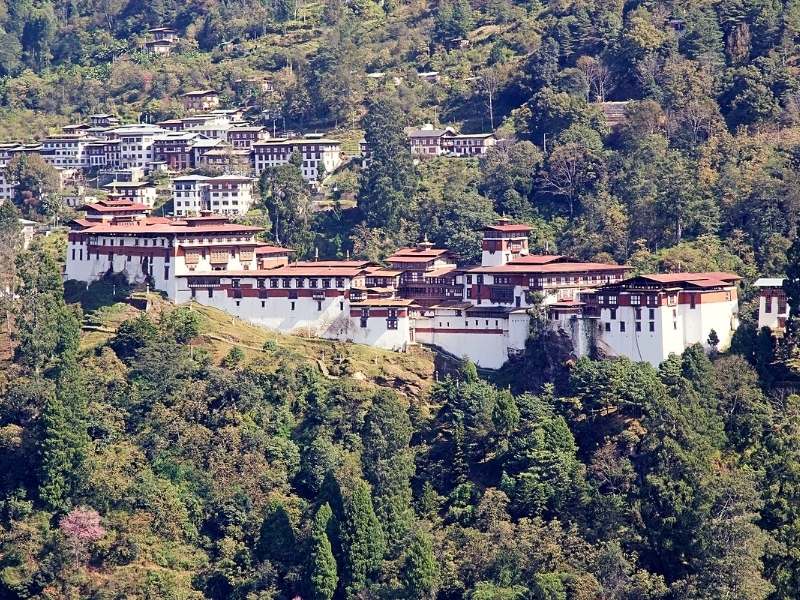 An offbeat town that is dedicatedly known for its traditional architecture, Trongsa is a beautiful place to visit that is located in the central region of Bhutan. Formerly known as Tongsa, it literally translates into "a new village" in the local language of Bhutan called Dzongkha. Also, the town happens to be the home to the 15th century temple, and is quite popular for being the former seat of the Wangchuck dynasty.
Attractions You Don't Want to Miss in Trongsa:
Chendebji Chorten

Trongsa Dzong

The Royal Heritage Museum (Ta Dzong)
5. Phobjikha Valley/Gangtey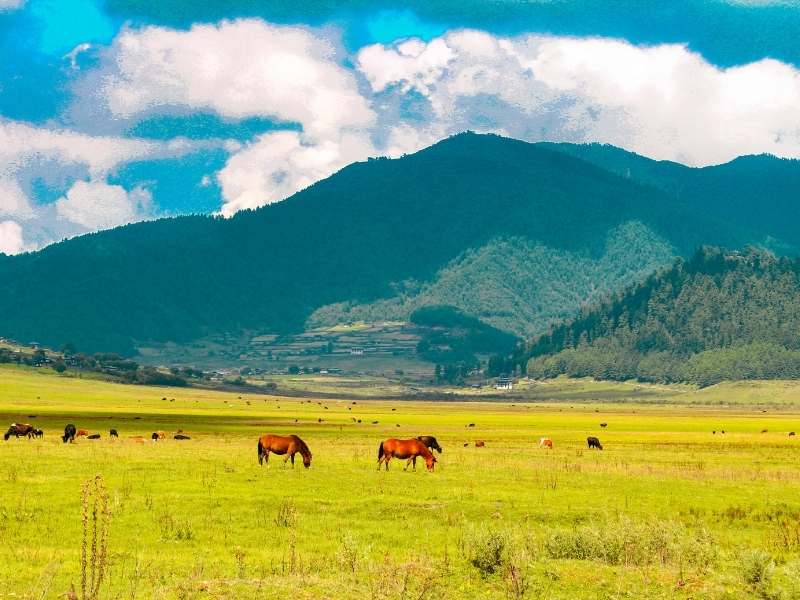 Your journey will definitely be incomplete if you miss out on exploring the serene and scenic Phobjikha Valley or Gangtey that happens to be a gem of all the ​Bhutan tourist places​. Located in the heart of Bhutan, it is a beautiful bowl-shaped valley that is set against the backdrop of Black Mountains. Home to countless monasteries, Phobjikha Valley not only enjoys a pristine location at an elevation of about 3000 meters but also is a seasonal host to the endangered species of black-necked cranes that make for an amazing bird watching experience during the winters. Also, exploring Gangteng Monastery is definitely worth the journey.
Attractions You Don't Want to Miss in Phobjikha Valley/Gangtey:
Gangtey Goenpa

Black-Necked Crane Information Centre

Kumbu Lhakhang

Gangtey Nature Trail
6. Chele La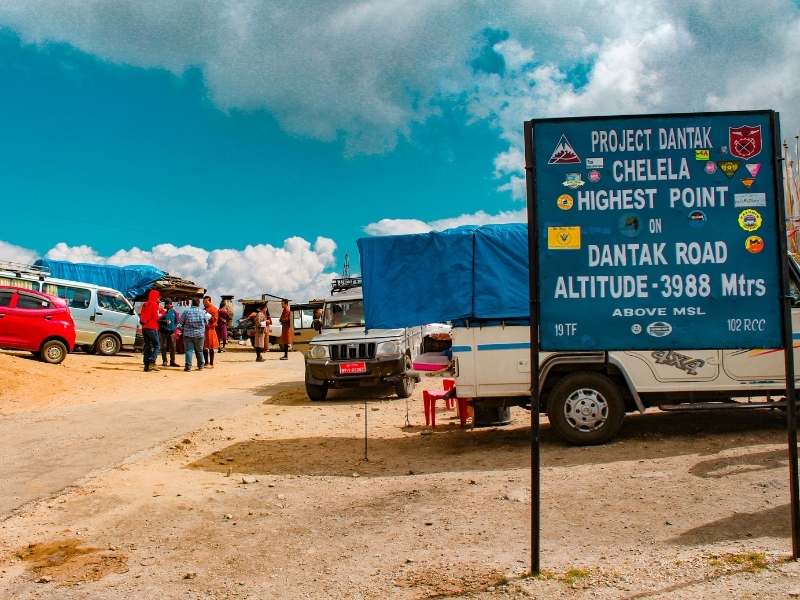 Located at a distance of about 40 kms from the town of Paro, Chele La is one of the best ​places to visit in Bhutan​ for those who could go to any heights just for the views. Soak in the goodness of picturesque views from an altitude of about 13000 feet that makes Chelela Pass, one of the highest motorable mountain passes in the country. And if you're all in for lush greens, blue skies, fresh snowfall, and panoramic views of the Himalayan Range, this is the perfect place to be when in Bhutan.
7. Haa Valley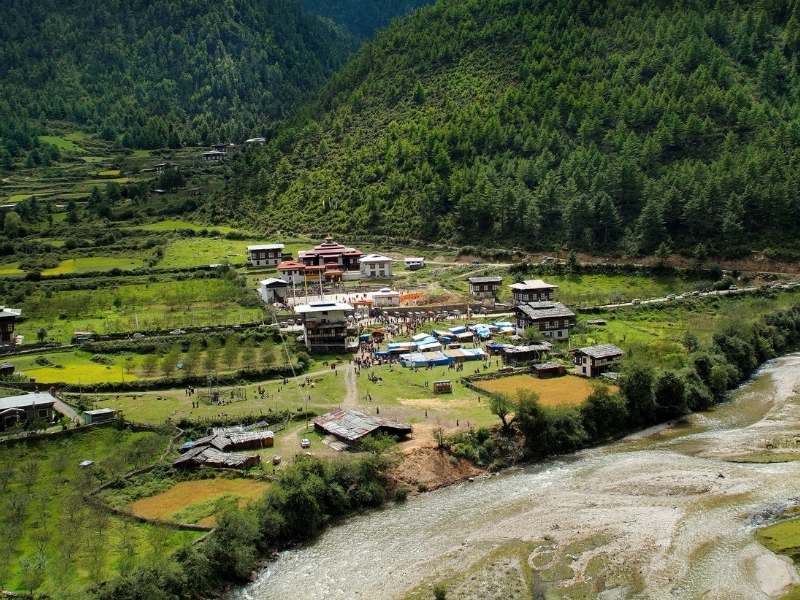 Call yourself a nature lover? Then you would love to embrace the beauty that Haa Valley has to offer to all the mountain and nature lovers. Located at a distance of about 13 miles from Doklam where the disputed border of India and China lies, this valley serves as a paradise that connects the districts of Chukha, Paro, and Samtse in Bhutan. While the town is much famed for its ancient rituals, the valley is definitely an antidote that will chase all your blues in no time.
Attractions You Don't Want to Miss in Haa Valley:
Haa Goenpa

Lhakhang Karpo and Lhakhang Ngapo

Dumchung Dzong

Has Samarpudung

Yangthong Goempa

Gyechu Lhakhang/ Chhundu Lhakhang

Juneydrak Hermitage

Katsho Goempa

Poppy Trails
8. Phuentsholing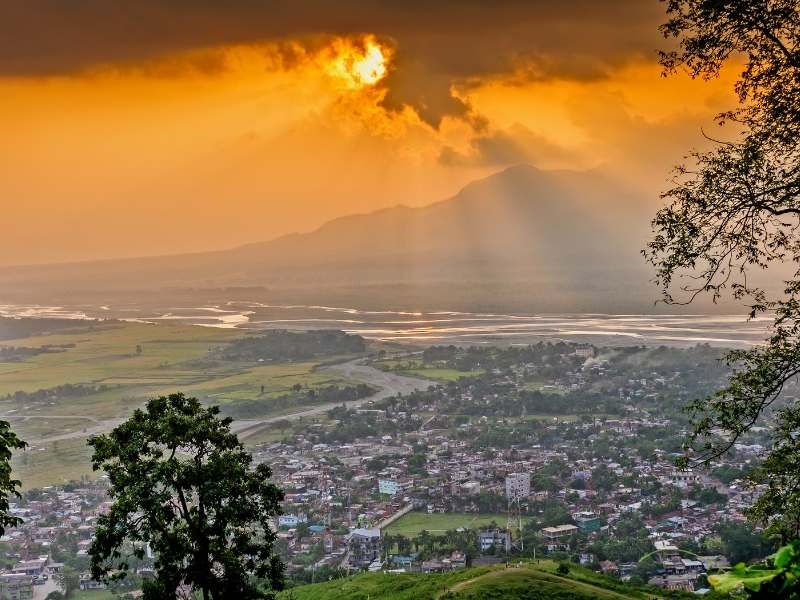 Simple is beautiful and nothing proves that better than the pure bliss of nature at Phuentsholing. Embracing the borders of Assam, Sikkim, and West Bengal in  India, Phuentsholing is the popular commercial center of the country that is nestled at the foothills of Himalayas and makes for a great ​Bhutan sightseeing​ opportunity. With simple locals, serene nature, and scenic views, one can definitely enjoy the slow pace of the town and expect to have a time of their life in the happy town.
Attractions You Don't Want to Miss in Phuentsholing:
Zangdok Palri Temple & Park

The Crocodile Breeding Farm/ Amu Choo Crocodile breeding center

Torsa River Side

Karbandi Monastery/ Gompa

Bhutan Gate
From mountains to monasteries, temples to trekking trails, valleys to historic monuments, art to architecture, and from forts to flora and fauna, Bhutan is an artistic creation of God. Offering a multitude of diverse experiences, these ​places to visit in Bhutan​ are sure to revive your senses, and soul that will make your holiday an unforgettable one.  Packed your bags yet?
Frequently Asked Questions About Tourist Places In Bhutan
Q. What is the best time to visit Bhutan?
The best time to visit Bhutan is in the months of March, April, May, October, and November. March, April, and May months are considered the main season for Bhutan and that is why it remains crowded. Also, one can experience black-necked cranes during this time of the year only. October and November months don't get much crowded and the place remains lush green. However, if one wants to experience snow then January and February are the months.
Q. Do we need a Visa for Bhutan?
No, you don't need a visa if you are a citizen of any SAARC countries. Though, you still need a permit (offline or online). Offline permit can be obtained from the immigration office located at Phuentsholing while Online permit (aka e-Visa) can be obtained online, just contact your tour operator through which you have booked your Bhutan tour.
Q. What are the documents required to get the permits for Bhutan?
If you are going to apply for an offline permit then you need either a valid passport or voter ID card. In case you are applying for an online permit then passport is mandatory. Apart from this, you also need a passport-sized photograph.
Q. How to travel to Bhutan?
One can travel to Bhutan either by air or by road. Bhutan has its first and only international airport at Paro which is connected to several countries. In India, flights to Paro are available only from Delhi or Kolkata as of now. In case you are traveling to Bhutan by road then you need to reach Bagdogra Airport or New Jalpaiguri railway station first and from there you can drive to Phuentsholing, which is a four hours drive from there.
Q. How many days do I need to explore Bhutan?
You need at least 5-7 days to explore Bhutan including the to and fro journey.
Q. Is a Passport required for Bhutan?
Yes, if you are applying for an online permit or e-Visa. Otherwise, Voter ID card can also work for an offline permit.
Q. Can I use Indian Currency in Bhutan?
Yes, INR works in Bhutan but only 100 Rs notes. New notes of 500 and 2000 are not acceptable. However, you can exchange currency at Jaigaon or Phuentsholing without paying any extra cost.
Q. Does Indian mobile number work in Bhutan?
No, the Indian mobile number doesn't work in Bhutan. You can get a Bhutan sim card by showing your permit and ID proof from shops. However, almost every hotel is equipped with Wifi. So you can use that to call or chat.