Tired of being tired? Guess we all can blame it on the pandemic, and finally gear up to break the monotony at last. With most of the states in India lifting up the ban on travel, domestic tourism is expected to revive in the country in the coming days. While some states like Himachal have undone the prerequisite of a COVID negative test report, places like Uttarakhand are incentivizing stays to woo the travelers. In such a scenario, many places are going to be packed with travelers flocking to leading domestic destinations. However, for those who are literally looking forward to taking a break from the break, here are some of the offbeat places to visit in India post the COVID-19 lockdown is over.
1. Tirthan Valley, Himachal Pradesh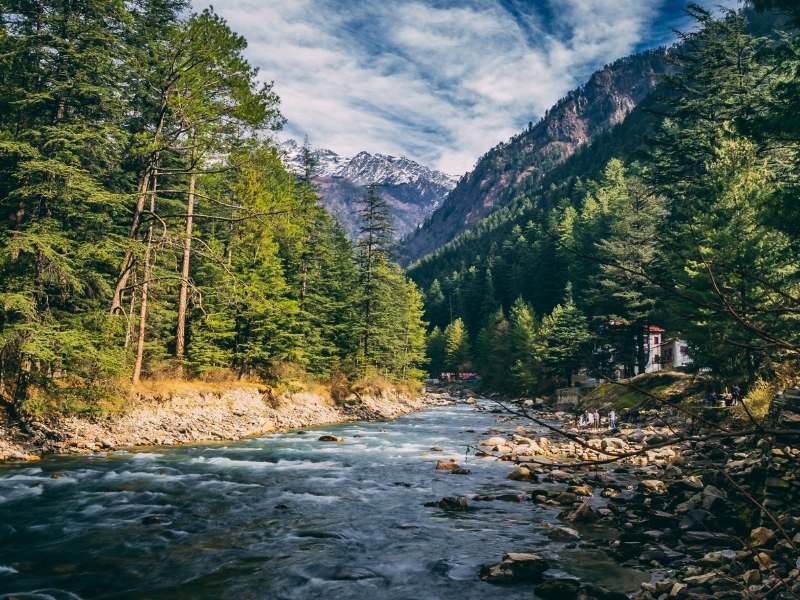 Crystal clear skies, lush green valleys, clouds passing by, and the fresh air takes you right into the lap of mother nature at Tirthan Valley. Considered one of the best offbeat places in India, Tirthan Valley is nestled in the district of Kullu, the valley is named after the River Tirthan and is set at the core of Himachal Pradesh. Drawing its source from the pristine glacier springs of the snow-capped Hanskund Peak, Tirthan Valley is indeed one of the best places to kick-start your life post the pandemic.
Major Attractions in Tirthan Valley:
Serolsar Lake, Raghupur Fort, Choie Waterfall, Jibhi, Shoja, Jalori Pass, and the Great Himalayan National Park.
2. Kalpa, Himachal Pradesh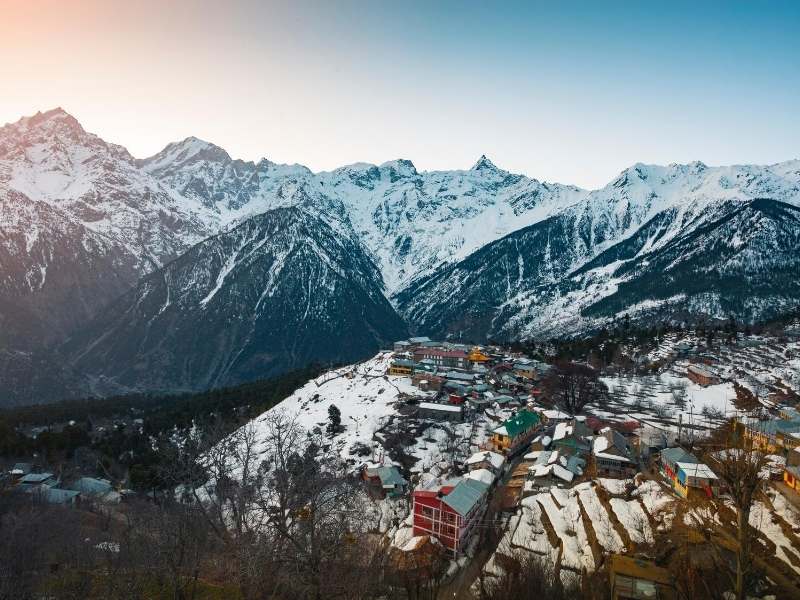 The lesser-known gem of Himachal Pradesh, Kalpa is a small village sandwiched and surrounded by the mountain ranges of Kinnaur Kailash peaks. With the feel of a magical land, the Kalpa village is set at an altitude of about 9,711 feet in the district of Kinnaur. Wrapped in snow-capped mountains and famous for its beautiful apple orchards, the village is yet to be explored to its fullest potential by many which makes it an ideal escape to break the monotony.
Major Attractions in Kalpa:
Suicide Point, Chakka Meadows Trek, Narayan-Nagini Temple, Roghi Village, and Hu-Bu-Lan-Kar Monastery, Reckong Peo
3. Munsiyari, Uttarakhand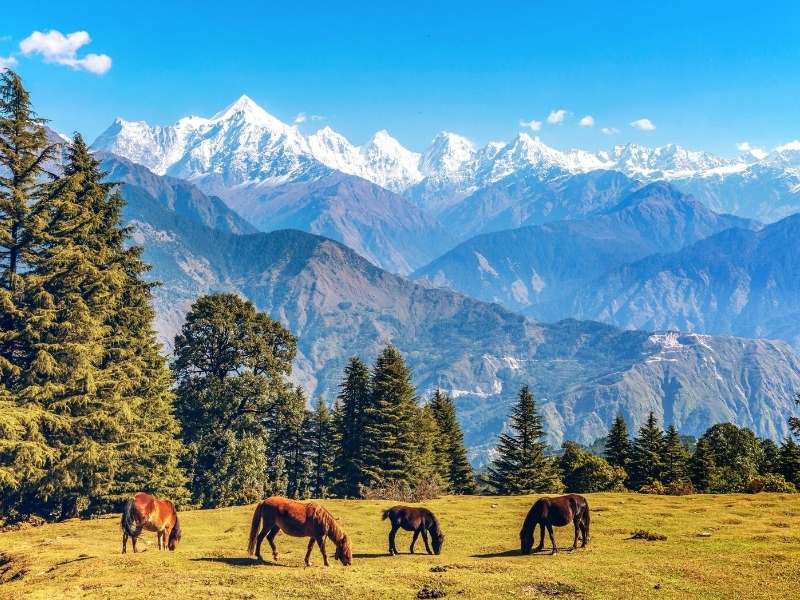 Much famed to be the doppelganger of Kashmir, Munsiyari is a quaint little town perched in the district of Pithoragarh in Uttarakhand. Literally translating into a "place of snow", Munsiyari is fast becoming one of the famous hotspots for hardcore trekking enthusiasts and is also one of the top offbeat places in India due to its unexplored wonders. Set on the banks of River Goriganga, this adventure hub also serves as a gateway to the famous Johar Valley.
Major Attractions in Munsiyari:
Nanda Devi Temple, Khaliya Top Trek, Tulip Garden, Birthi Falls, Thamri Kund, and Tribal Heritage Museum
4. Kanatal, Uttarakhand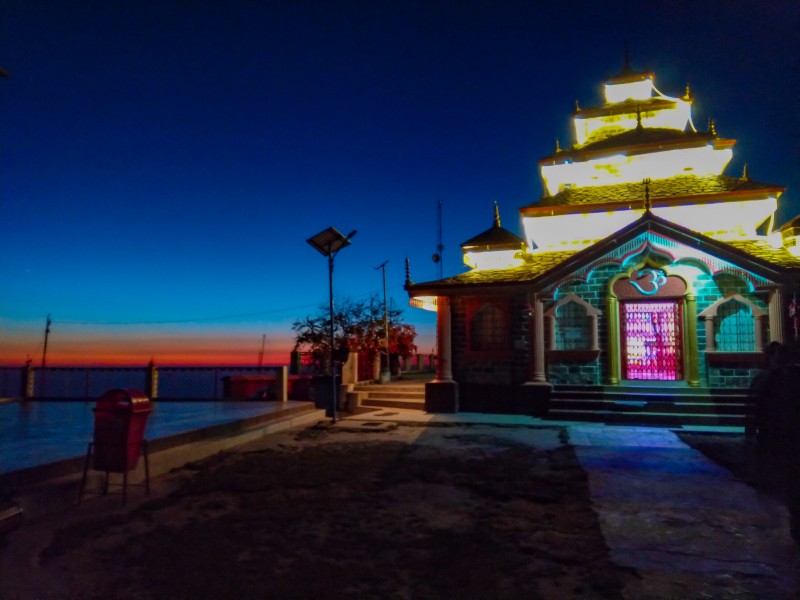 With Mussoorie located at a stone's throw distance, the beautiful village of Kanatal remains unexplored most of the time by many travelers. A beautiful hill station set just 38 kilometers away from Mussoorie, Kanatal mostly serves as a weekend escape spot for mountain lovers. Other than boasting of a lot of adventure activities, the hill station is also famous for offering breathtaking vistas of the Himalayas.
Major Attractions in Kanatal:
Surkanda Devi Temple, Tehri Dam Lake, Chamba, Dhanaulti, and Kodai Jungle Trek
5. Udaipur, Rajasthan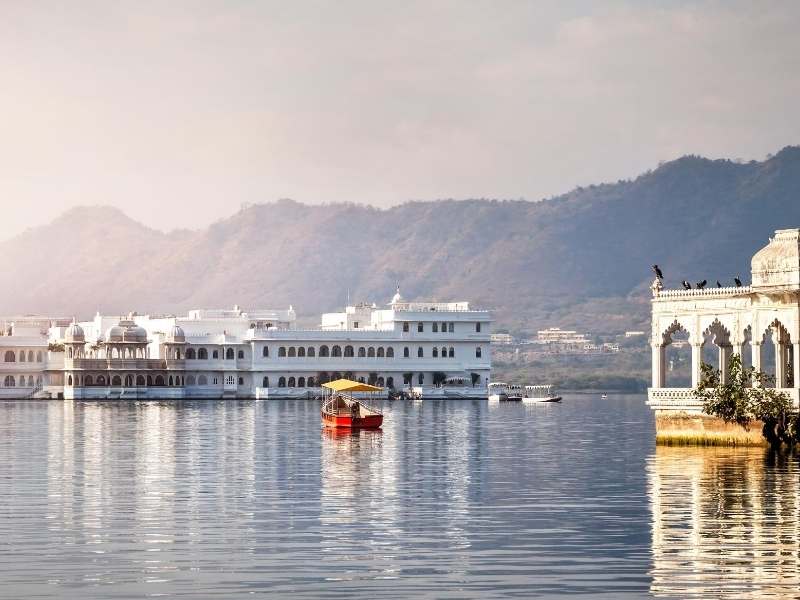 Popularly known as the "City of Lakes", Udaipur is the royal and romantic seat of Rajasthan state that blows everyone's mind at first sight. Reckoned to be the iconic capital of the Mewar Kingdom, the city is also referred to as the "Venice of the East", considering the lush greenery of Aravali hills surrounding the city and offering picturesque views at all times.
Major Attractions in Udaipur:
Lake Palace, Lake Pichola, Fateh Sagar Lake, Jaisamand Lake, City Palace, Sajjangarh, and Solar Observatory
6. Bandhavgarh National Park, Madhya Pradesh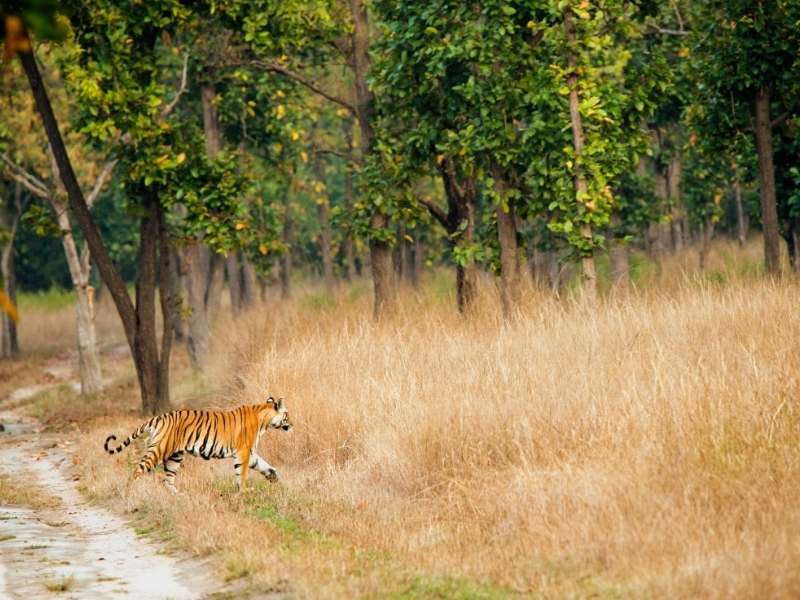 With its central focus on the magnificent species of Tigers, Bandhavgarh National Park is one of the best national parks in India in the current times. Located in the district of Umaria, this national park forms the heart of Madhya Pradesh. A proud home to the largest number of Asian tigers, the lush greenery of the dense forests makes it a great spot for a wildlife safari, and an adventurous jungle stay.
Major Attractions in Bandhavgarh National Park:
Baghel Museum, Tala Village, Climber's Point, Kethika, Bari Gufa, Mehman Pond, and Jwalamukhi Temple
7. Coorg, Karnataka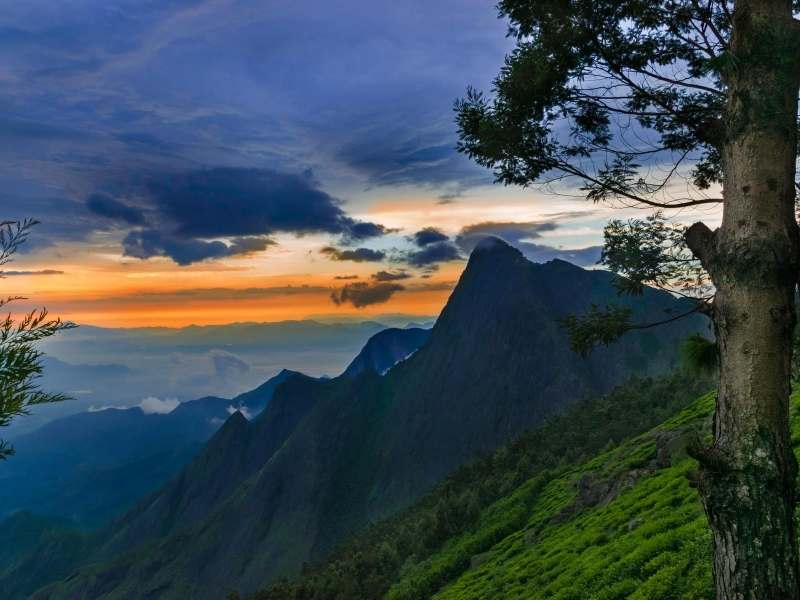 Coorg is one place in the southern region of India that is synonymous with peace, picturesque views, and plenty of coffee plantations. Also referred to as Kodagu, the scenic hill station is one of the top offbeat places in India that owes much of its greenery to its central location amidst the Western Ghats. Popularly known as the Scotland of India, it is a must for the travelers to witness the great hospitality of the southern culture when in Coorg. Also, do not miss out on shopping for some traditional spices.
Major Attractions in Coorg:
Abbey Falls, Raja's Seat, Omkareshwara Temple, Madikeri Fort, St. Michael's Church, and ViewPoint Park
8. Gandikota, Andhra Pradesh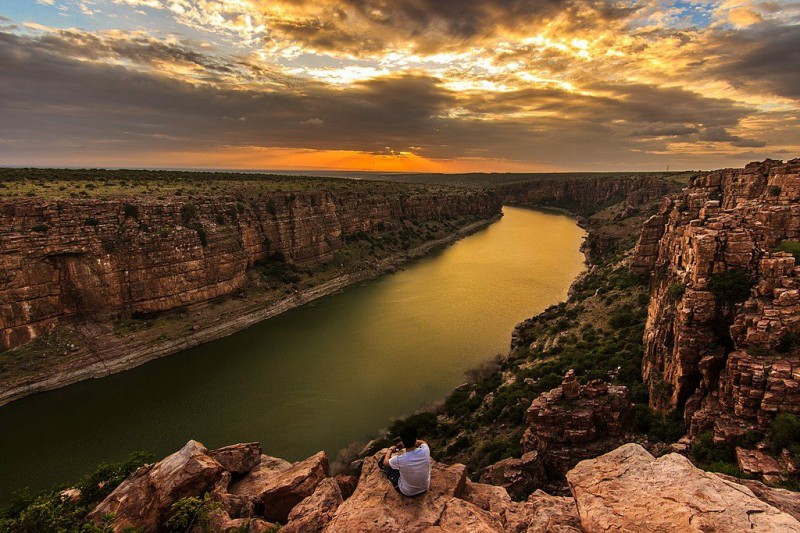 Set in the district of Kadapa village in the heart of Andhra Pradesh, the famous Grand Canyon of India – Gandikota is indeed a visual treat to the travelers. A glorious fort made of rock formations, the village of Gandikota is perched on the banks of River Penna that flows through the beautiful hills of Erramala. An epitome of nature's art and architecture, make sure you do not miss out on visiting this beauty when in Andhra Pradesh.
Major Attractions in Gandikota hills:
Gandikota Fort, Pennar River Sunset, Belum Caves, Rayalacheruvu Lake, and Raghunathaswamy Temple
9. Ooty, Tamil Nadu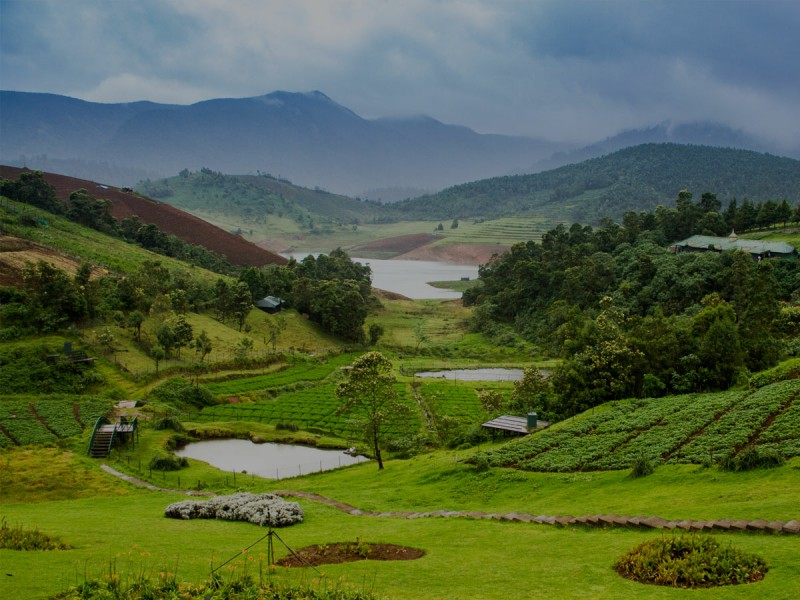 Counted as one of the most famous hill stations in South India as well as in the entire country, Ooty is a central hotspot that serves as a popular getaway during summer vacations. Set in the Nilgiris district of Tamil Nadu state, it is officially recognized as Udagamandalam. Popular for its hilly resorts, cobblestoned cottages, eucalyptus trees, and tea plantations, Ooty is indeed a gem in the heart of the Western Ghats. Having served as the summer capital of the British Raj, thousands of travelers visit this iconic hill station round the year.
Major Attractions in Ooty:
Government Botanical Garden, St. Stephen's Church, Stone House, Mountain Toy Train, and Doddabetta Peak, Avalanche Lake, Pykara Lake, Emerald Lake.
10. Wayanad, Kerala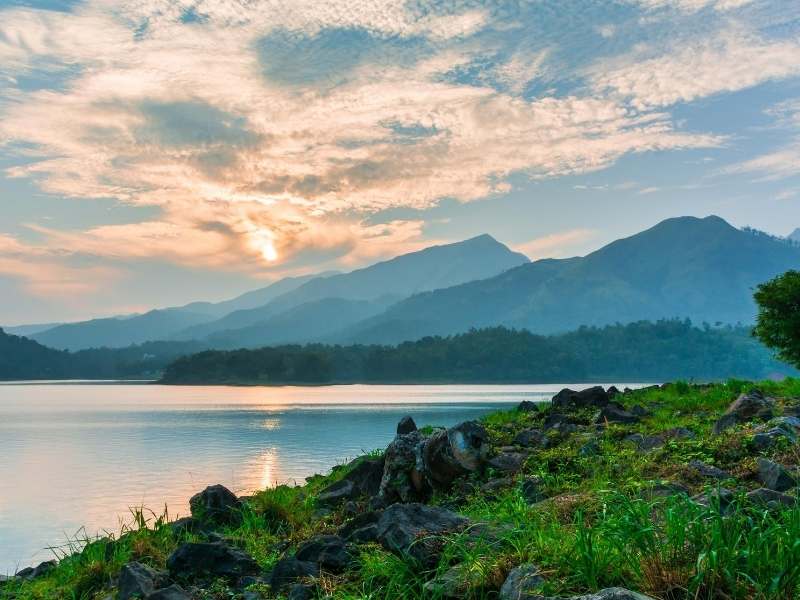 Moving right to the bottom tip of India, Wayanad is a beautiful district in the state of Kerala which is famous for lush green fields, soothing blue skies, and everything good in between. Considered to be one of the famous destinations of God's own country, Wayanad is popular for its wildlife sanctuary. A proud home to some of the marvelous species of Asiatic tigers, elephants, and leopards, Wayanad serves as a great spot to escape the scorching heat in the summer season.
Major Attractions in Wayanad:
Wayanad Wildlife Sanctuary, Edakkal Caves, Soochipara Waterfalls, Kuruvadweep, Pookode Lake, and Banasura Hill
While one can stay assured to be mind-blown by the beauty of such offbeat places in India, visiting these places post Covid-19 is definitely going to be worth every moment spent in lockdown. With such an extensive list of amazing destinations across the country, picking one will sure be a difficult task. However, a holiday at any of these destinations that you choose to explore will surely be a memorable one. So, packed your bags yet?
Frequently Asked Questions
Q. Is it safe to travel now?
Yes, it is safe to travel if you are following all the precautions seriously. But we would recommend you to avoid tourist places like Shimla, Nainital, Jaipur, etc. If you are planning to travel then choose any offbeat place where there is less crowd.
Q. Do we need a COVID negative report to travel?
It depends on the place you are traveling to. Though the government has opened several places and lifted all the restrictions but there are a few places like Kashmir that are still asking for a COVID negative report. Himachal Pradesh (except Spiti Valley), Uttarakhand (including Char Dham), Rajasthan & Madhya Pradesh have completely opened and you don't need to bring COVID negative report to travel.
Q. Is it safe to travel by public transport?
We recommend you either travel by your own vehicle or private taxi. Avoid public transport as of now.
Q. I am a solo traveler. How can I travel?
There are group tours available to several places in Himachal Pradesh & Uttarakhand but we recommend you travel with your family, friends, or closed ones only. Avoid group tours to maintain social distancing. We have also decided to not organize any group tours until the situation gets better. We are organizing only private/independent tours that can be fully customized.
Q. What are the safety precautions you are taking while organizing tours during this time?
We are always concerned about the safety of our travelers and therefore, safety is always our utmost priority. For the same, we have set certain guidelines.
No group departure tours till December 2020. To maintain social distancing, we recommend everyone to travel only with their friends or family. Traveling in a group along with strangers could be a risk in this uncertain time.
Cleanliness and sanitization of hotels/homestays/camps/vehicles will be considered seriously.
All our staff (drivers, hotel staff, local guides) are instructed to take all the precautions like using masks & sanitizers and maintain social distancing.
We will be providing masks and sanitizers to all our travelers/customers.
For any travel query or assistance, contact us – 91-74287 10595 or contact@happygotrips.com